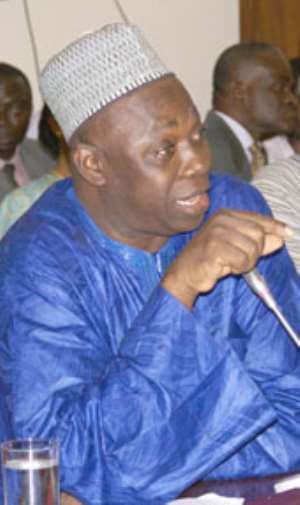 A group of members of the National Democratic Congress known as Concerned NDC Youth on Tuesday described the call by the opposition NPP on Alhaji Muhammed Mumuni, Minister for Foreign Affairs and Regional Integration, to resign as a deliberate attempt to discredit him and also to destabilize the government.
"The attempt by some faceless NPP elements to let Alhaji Mumuni resign
is due to his implication in the NVTI case is uncalled for … because he has
not been proved guilty by any court," said Mr Abubakar Ridwam, Spokesman of
the group.
At a press conference held in Accra, the group described as unprofessional the inability of Messrs Baffour Awuah and Associates, the auditing firm contracted by the Attorney General's Department to handle the case, to invite Alhaji Mumuni regarding some actions that the auditors claimed were "rather unusual" as unfortunate.
The group described as strange the incidence whereby the office of Mr Yaw Barimah, the then Minister of Manpower Development and Employment, was burgled and the Central Processing Unit of his computer with backups stolen as "clumsy conspiracy to erase crucial evidence which would have exposed the conspirators".
The group expressed its misgivings about Baffour Awuah and Associates since it was the same auditing firm used in cases against prominent NDC officials.
The group pledged its unflinching support to the Alhaji Mumuni and appealed to President John Evans Atta Mills not to be swayed by the antics of the NPP but rather concentrate on delivering on his campaign promises to the Ghanaian populace.
GNA