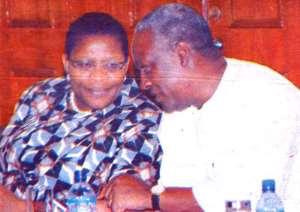 Vice President John Mahama in discussion with Madam Katryn Ezekwesili, World Bank Vice-President for Africa, during the meeting on better governance for improved service delivery. World Bank officials, public servants and civil society representatives have advocated the strengthening of Ghana's decentralisation system to ensure improved service system delivery in the country.
They argued that the weak institutions and lack of quality human resource at the metropolitan, municipal and district assemblies (MMDAs) are hampering the implementation of the decentralisation process.
The Vice President, Mr John Mahama, the World Bank Country Director, Mr Ishac Diwan, the World Bank Vice President for Africa, Ms Obiageli Katryn Ezekewesili, the Minister for Local Government and Rural Development, Mr Joseph Yieleh Chireh, and the Chief Director of the Ministry of Education, Mr Ato Essuman, were speaking at a round table meeting in Accra yesterday.
Mr Mahama said the government is committed to the decentralisation system over the last 20 years and initiate measures to improve it.
He said if local government structures are strengthened, MMDAs will be able to carry out their own development activities and guard against the imposition of projects by the central government.
'The government is committed to comprehensive and total decentralisation. It is in our own interest and that is the only way we can feel the fruit of development,' he stressed.
Mr Diwan stressed the need for resources to be made available to build the institutions of local government to guarantee improved delivery of services.
Ms Ezekewesili said the decentralisation system has worked effectively in countries where there is the political will, noting that it has the advantage of making the government effective in delivering services to the people.
She called for co-ordination between the central government and the local government in carrying out development projects and programmes.
Mr Chireh said the government is committed to achieving sustainable economic growth through citizen's participation as contained in the vision of the Local Government Ministry.