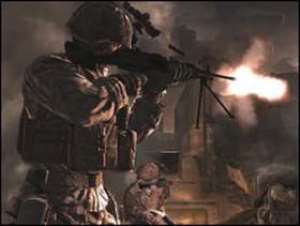 Call of Duty 4 is one of the front runnners The British Academy of Film and Television Arts is due to present its awards to the video games industry in Central London tonight.
Fifteen video Baftas are on offer, with TV presenters Jonathan Ross and Konnie Huq among those to present an award.
UK developers have a significant presence, including industry veteran Peter Molyneux for Fable II.
Call of Duty 4 and British developed Grand Theft Auto IV top the nominations with seven apiece.
The Video Game Bafta's are given out to recognise "the very best in artistic, creative and technical innovation in video games".
Bafta has been giving out awards to the games industry since 1998, although it only became a separate event in 2004.
There are 39 different games nominated for an award, which will be hosted by Mock The Week comedian Dara O'Briain, an avid gamer himself who describes his playing habits as "midway between hardcore and casual".
Some games dominate the nominations. Call of Duty 4: Modern Warfare has been nominated for seven categories - including Best Game - as has British-developed Grand Theft Auto IV.
Britsoft
UK developers feature strongly in the line up. In addition to Grand Theft Auto IV - developed by Rockstar North - Surrey based Media Molecule, the firm behind LittleBigPlanet, and Peter Molyneux's Lionhead Studio - which worked on Fable II - are also in the running.
Film director Steven Spielberg is also up for an award for his work on Boom Blox for the Nintendo Wii.
In addition to the awards that have been judged by a panel of industry experts, a prize, voted for by the public, will also be presented. There are 10 nominees for the Game Award of 2008 including Gears of War 2, Wii Fit and World of Warcraft: Wrath of the Lich King.
The Academy is also bestowing a Fellowship award on Nolan Bushnell, founder of Atari and the man who created the first ever mass-market video game, Pong.
The last awards event, in 2007, caused controversy as some of the nominated titles had not actually been released in the shops and, in some cases, were not even finished.
Credit: BBC