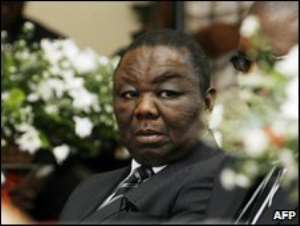 President Robert Mugabe has told hundreds of mourners at a funeral service for Susan Tsvangirai that violence should be a thing of the past.
Prime Minister Morgan Tsvangirai's wife died on Friday in a crash in which he was injured.
Most of Zimbabwe's unity cabinet attended the service in the capital Harare, on the eve of her burial.
About 20,000 people gathered afterwards for a memorial to the 50-year-old mother-of-six at an arena in the city.
Mr Tsvangirai spoke at Glamis Stadium last month after being sworn in as prime minister.