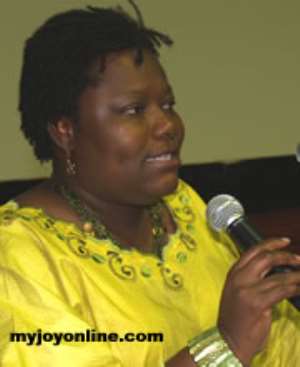 The Gender and Documentation Centre under Dorcas Coker-Appiah and Kathy Cusack decided to undertake a national research project, called the Nkinkyim project, to collate data on gender-based violence.
This was a major project that provided very much need data on the prevalence of gender-based violence in Ghana. It established that, everyone out of three women in Ghana has suffered some form of violence.
It also provided research data to initiate advocacy for the adoption by Ghana of specific legislation to address gender-based violence.
Then in 1999, Gloria Ofori-Boadu sat at home one evening, and drafted the first draft of a Domestic Violence Bill in Ghana. She-called me the next day to inform me about what she had done.
Gloria then under wings of FlDA, convened workshops with the Gender Committee and Women's caucus of Parliament to try and get them to pass it as a Private Members' Bill.
Other women's groups also drafted similar bills and started calling on government to pass a law to protect women, children and victims of gender-based violence.
Women Parliamentarians lent their support to this advocacy process.
There was a change of government in year 2000, and the then Justice Minister, Nana Akufo-Addo, committed the NPP government to passing a Domestic Violence Bill.
He received the various drafts of the bill, tasked the drafting department of the Attorney-General to come up with a draft bill. A draft bill was printed and advocacy for the passage of the bill started in earnest.
During this period, the Ministry of Women and Children had been created, and they took charge together with the Ministry of Justice with advocating for passage of the bill, and incorporating public comments and concerns about clauses in the bill.
Then came the infamous comment by the Minister for Women and Children, Mrs. Gladys Asmah on the 'Marital rape clause' in the bill.
This was at a workshop at the Novotel, an innocuous question by a journalist almost derailed the whole process of getting a domestic violence law passed by Ghana, Section 42(g) was to be repealed by the bill.
Public opinion was against the criminalization of marital rape. Under pressure, government removed repealing of section 42(g) by providing in section 4 of the law, that the 'use of violence in the domestic setting is not justified on the basis of consent'.
We cannot assess how far we have come in addressing violence against women without commenting on the work of the Domestic Violence Bill Coalition. This Coalition was formed around year 2000 to put pressure on government to pass the DV Bill.
When the history of the women's movement in Ghana is being written, the work of the DV Coalition will be one of the main highlights of the Chronicle. The Coalition is made up of over 100 organisations and many more individuals.
It is a national coalition and it adopted a well structured advocacy strategic plan to ensure Ghana passed a law to protect women against violence.
Formation of a coalition was mooted by persons including Mrs. Betty Mould Iddrisu, and was supported by A WLA, Ark and WISE and several other organisations. A lot of the successes of the Coalition can be attributed to its hard working Coordinators including Mawuli Dake, Nana Asantewaa Afadzinu, and Adolf Awuku Bekoe.
There are several other persons, both women, men, donor partners, csos, cbos and others who helped this cause.
So in 2007, the Domestic Violence Act was passed by Parliament. It received assent on May 3, 2007, and gazette notification on May 4, 2007.It is an Act to provide protection from domestic violence particularly for women and children.
What about other interventions to address violence? Since then WAJU has changed its face to DOVVSU, and been decentralized. It has 77 Units throughout the country and has adopted a multi-sectoral approach to assist victims of violence.
In that regard it collaborates closely with the Department of Social Welfare. WISE, FIDA and Ark, still continue to provide support for victims of domestic violence. The Judiciary has set up five Children and Juvenile Courts.
The Ministry of Women and Children has adopted a Plan of Action and Strategic framework to see through implementation and enforcement of the Domestic Violence Act.
The Statute Revision process by the Ministry of Justice has seen the repeal of section 42(g), thereby making marital rape a criminal offence in Ghana. Parliament has passed a Trafficking in Person's law, and amended the Female Genital Mutilation law to increase the sentence to 10 years and increase the range of persons who can be charged with the offence of FGM.