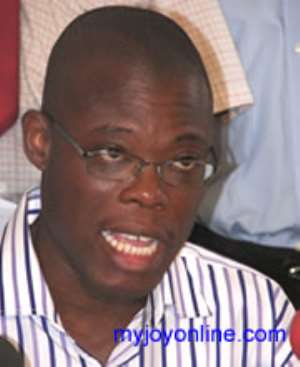 The Minority in Parliament has kicked against the approval of Fiifi Kwettey, as Deputy Minister of Finance-designate, by the House because he is a 'professional conman".
Members of Parliament's Appointments Committee from the minority side have questioned his integrity, accusing him of having a penchant for telling lies.
"I don't think the Majority would endorse him for what has happened, yeah. It has become very clear that this is a professional who has no sense of truth," Mr. Atta Akyea NPP MP for Abuakwa South told Joy News.
The Minority argued that in the run-up to the 2008 elections, the nominee used his position as the propaganda secretary of the then opposition NDC, under the platform of a Committee to Set the Record Straight, to make several damning allegations against the then NPP government.
The deputy minister designate was on Monday treated to a grueling four-hour brain-cracking question-and-answer session when he appeared before the committee.
Mr Ata Akyea says allegations, particularly those he made against the 2008 presidential candidate of the NPP, were not true.
"I think the committee holds it to itself and its credibility to go into this matter; because if it never happened then we are endorsing a professional conman; that is what it would be."
He (Akyea) and Joe Osei-Wusu, MP for Bekwai, say the committee would be doing the country a great disservice if it approves his nominations.
The MP for Abuakwa South condemned the 'unrepentant' attitude of Mr. Kwettey about the libelous statements he made against people.
He said people in leadership positions should exhibit traits of character, competence and care. "Very obviously no character, humility nil…if you are not humble and you have no character what work would you do. You can never deliver in my view," he retorted.
Fiifi Kwettey, however, tells Joy News' Araba Koomson, he was not perturbed by the Minority threat and promised to stand firmly by his own "conviction" as Ghana's national anthem professed.
He said the Minority is just forcing him to back out from these that are true. "I am not an arrogant person. I know how to stand on my ground and it is important to be a person of conviction…our national anthems tell us that we should be bold to defend the course of what we know to be the truth."
Meanwhile, he has served notice that he would apologize if the allegations he raised against the NPP administration are proven otherwise, emphasizing, he has no interest in peddling lies.
"Things that I knew I had no basis to say I admitted that clearly I do not have any basis to say them; that is not the position of somebody who is being arrogant."
Story by Isaac Essel