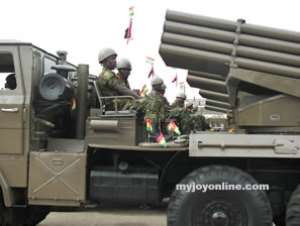 Adequate military and civil measures are in place in Yendi to forestall any disturbances during the celebration of this year's Damba Festival by the chiefs and people of Dagbon, the Ministry of the Interior has assured the public.
Explaining the measures, the Interior Minister, Mr Cletus Avoka, told the Daily Graphic Monday that the ministry had taken the preventive stance following threats to peace in Yendi during preparations which began last Sunday ahead of the festival.
He confirmed that while security personnel in the area had been put on high alert to avert any clashes, the Ministry of the Interior and the Northern Regional Security Council were using dialogue and mediation to prevail on the leaders of one of the factions which had declared its intention to defy a court order and engage in illegality.
Earlier, a circuit court had restrained the Abudus from taking part in the 2009 celebration of the Damba Festival, the major traditional festival of the people of the Northern Region.

However, the youth of the Abudu Gate said they would not accept the decision of the court unless the rival Andanis were also served with the order not to celebrate the festival.
The minister said any such act by the Abudus would amount to contempt of court, adding that the government had already made it clear that the law would take its course should anyone breach it.
He said there was a process for setting aside a cou11 order and so any person who felt aggrieved must go through the process to set it aside.
Mr Avoka said the Northern Regional Security Council was in firm control of the situation in Yendi and appealed to the Abudus to co-operate with the council.
Throwing more light on the cou11 order, he said the Yendi District Security Council observed that the Abudus, led by their Regent, the Bolin Lana, were rehearsing for the Damba Festival.
He said the Regent and his followers were advised to stop, since it could create problems.

According to him, when the Regent and his followers refused to adhere to the advice, the DISEC went to court to restrain them from celebrating the festival.

The Abudus and Andanis have been embroiled in chieftaincy disputes since the 1960s.
In March 2002, in a situation similar to the current security situation in Dagbon, the Overlord of the state, Ya-Na Yakubu Andani, was murdered, along with 40 of his elders.
Attempts to find a lasting solution to the problem have since not yielded much.