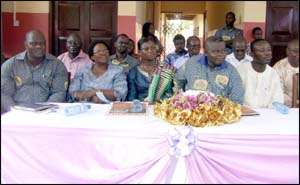 PTA function A LECTURER AT the Faculty of Educational Studies, University of Education, Winneba, Prof Grace Yawo Gadagbui has called on parents, caregivers and teachers to help children develop attitudes that would make them responsible citizens of the country and the world at large.
She said it takes the concerted efforts of the home, school and community to serve as watchdogs to influence their developmental growth to one of excellence.
Prof Grace Yawo made these observations at the 9th Speech and Prize Giving Day of the Ghana Atomic Energy Basic School (GAEB) which was under the theme; "Academic Excellence Through School Development"
She noted that the theme bores relevance to current demands of the new education reforms especially the portion that protects girl-child education.
She contended that it had become very necessary for all the players in child upbringing to recognize their roles and sit up to give shelter, care, support and decent clothing to their children. "To allow them access to needed information, teach them the norms and skills needed for their future well being," she added.
Prof. Yawo urged school authorities to do everything possible with their rich experience to help children develop their physical, cognitive, moral and social potentials so that they would be empowered for life and be active players in the development of society.
She also called on children to take steps to prepare for the future now by doing things that assure society of their leadership roles.
Prof. Yawo added that just as parents were precious jewels to children at home, teachers could also produce good students who in turn could influence their friends positively.
The Headmistress of the school, Ruth Adu in her welcome address said the school was established in February 1982 and now had a student population of 1,256 and very hard working teachers at all levels.
She said the school sought among other things, to provide quality education through a well laid out academic performance, bringing up well disciplined children and equipping them with sound leadership qualities.
Mrs Adu appealed to parents to pay the fees of their children promptly.
 The Deputy Director of Ghana Atomic Energy Commission (GAEC), Prof S. Armah, assisted by Mrs. Adu, Commissioned two separate classroom blocks for the Nursery and JHS departments.
Theophilus Nii Akumea Sackey who was the chairman of the GAEC Parent Teacher Association (PTA) congratulated all for making the day a success.
By Solomon Ofori