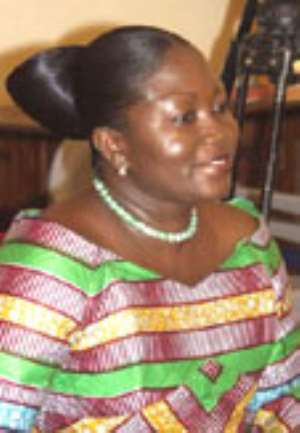 The former Metropolitan Chief Executive (MCE) of the Kumasi Metropolitan Assembly (KMA), Ms. Patricia Appiagyei, has deplored the inability to enforcement of bye-laws of the KMA, particularly that of sanitation.
She attributed the pile of filth in the metropolis, to the absence of City Courts to prosecute people who litter the city without restraint, in contravention of existing bye-laws.
The KMA's bye-law on sanitation, promulgated in 1995, under section 79 Local Government Act 462 of 1993, covers the disposal of refuse, removal of weeds and rubbish. It also provides prohibitions against the disposal of litter, refuse or other matter in gutters and drains, and that any person who contravenes any of the bye-laws commits an offence, and shall be liable on conviction by a Court or Community Tribunal to a fine not exceeding ¢50,000 (now GH¢5) which has been revised to ¢200,000 (GH¢20), or to a term of imprisonment not exceeding three months.
Ms. Appiagyei, who was sharing her views on the non-sustainability of the waste management programmes in the city with The Chronicle, called on the Judiciary to support the KMA enforce its bye-laws, and ensure sustainable sanitation programmes.
According to her, the laws on sanitation needed to be revised, because they were no longer deterrent.
She therefore called on Parliament to come out with laws on health and sanitation. She would also want some bye-laws reviewed critically, to help solve the national canker of filth.
The former mayor as well recommended to the KMA, to increase the number of sanitation police, to ensure compliance with KMA bye-laws on sanitation, suggesting further that the effective application of sanctions would go a long way to keep the city tidy at all times.