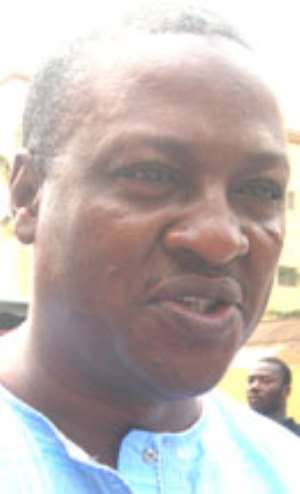 HIS EXCELLENCY the Vice-President, John Dramani Mahama, has expressed his condolences to the bereaved families of tomato farmers who committed suicide after their products were neglected by the market queens, causing them to rot on the farms as the market queens preferred to buy tomatoes from Burkina Faso, instead of Ghana.
Subsequently, Vice-President Mahama has passionately appealed to all tomato farmers in the Navrongo and Paga areas, not to resort to committing suicide as the solution to their woes, emphasising that "suicide is not the answer."
It would be recalled that recently there were media reports of tomato farmers in the Navrongo and Paga areas committing suicide, because they could not imagine how they were going to raise money to settle their bankers, after taking huge sums of loans to invest in tomato farming, only for them to lose buyers of their products to their Burkina Faso counterparts.
A representative of the farmers alleged that tomato buyers from the south, popularly referred to as market queens, do not buy their tomatoes, not because it was of low quality, but because they smuggled items such as drugs, cement, local gin, into Burkina Faso, sell them and use the money to purchase tomatoes from there.
The farmers lamented that a crate of tomatoes, that was sold around GH¢120.00 or GH¢150.00 at the beginning of the year, was now being sold at GH¢20.00. They therefore wanted at least a two-week ban of the importation of tomatoes into the country, so that they could also have a good market for their products.
They also suggested that it was about time they were given the opportunity to hold shares in the tomato factory, so that they could contribute their quota to its running.
They expressed fears about the fact that 95% of them were yet to harvest their tomatoes, and this same percentage of them either took loans or sold their livestock to invest in the production of the perishable, but highly demanded commodity.
Thus if attention was not given by government, more of them could commit suicide.
According to Mr. Mark Woyongo, Upper East Regional Minister, when he earlier met with the market queens, they claimed the Ghanaian farmers were using inferior seeds in their production, and this made their tomatoes go bad within a short period of time.
They also alleged that the farmers used chemical fertilisers instead of compost manure, as was being done by their Burkinabe counterparts. Again, the market queens said the Ghanaian farmers were not friendly to them like those in Burkina Faso.
Mr. Woyongo has since directed Custom Officers at the Burkina Faso border to subject market queens to vigorous searches, before allowing them into Burkina Faso. This was to ensure that they did not smuggle into that country any items for sale.
Mr. Roy Ayariga, of the Ministry of Food and Agriculture, dismissed all the claims by the market queens, and also said they were neglecting tomatoes produced in Ghana, because they could make double profits by smuggling goods into Burkina Faso.
In a swift response to the plight of the farmers at Navrongo, when he met with them to have first hand information about the crises, the number two man of the land, did not only console the bereaved families and appealled to the rest not to commit suicide any longer, but also assured them of government's willingness to find short term measures to the problem, before looking for the medium and long term solutions.
On short term solution, His Excellency Mahama suggested that the Northern Star Tomato Factor at Pwalugu, near Bolgatanga, could buy the tomatoes on credit from the farmers and settle them after the commodity had been processed and sold.
He agreed to the suggestion by the farmers to hold shares in the factory, adding that if he had his way, the factory should have been sold to the tomato farmers. He hoped these farmers could prudently manage and keep the factory running all year round.
He, however, said due to the Economic Community of West African State (ECOWAS) Protocol, it would be difficult for the government to place a ban on the importation of tomatoes into the country. Nonetheless, measures would be put in place to ensure that Ghanaian farmers did not become losers.
Touching on rice farming at the Tono Irrigation Project Site, Vice-President Mahama advised farmers to form groups, at least 10 or 20 in each group, so that government could support them with loans and tractors to go into large scale production.
The Vice-President later toured the irrigation sit at Tono, which was under rehabilitation, and the tomato factory at Pwalugu as well.