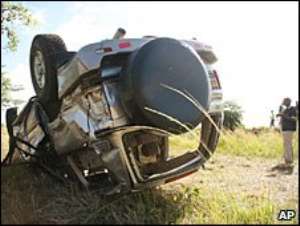 Zimbabwean Prime Minister Morgan Tsvangirai has said the car crash that killed his wife Susan was an accident.
Mr Tsvangirai said there was only a "one in a thousand" chance that the incident involved any foul play.
He was speaking as the lorry driver involved in the collision was granted bail after appearing in court charged with culpable homicide.
Mr Tsvangirai has returned to Zimbabwe to prepare his wife's funeral after undergoing treatment in Botswana.
"When something happens, there is always speculation but I want to say in this case, if there was any foul play, it was one in a thousand," Mr Tsvangirai was quoted as telling mourners outside his home in the Zimbabwean capital, Harare.
Wearing dark glasses and with his face still swollen, he said: "It was an accident and unfortunately it took her [Susan's] life."
Many Zimbabweans are suspicious about Mrs Tsvangirai's death, because of past acrimony between Mr Tsvangirai and President Robert Mugabe.
Police have said a lorry carrying aid crossed into the lane in which the prime minister's 4x4 was travelling on Friday and side-swiped the vehicle, causing it to roll over three times.
'Trials and tribulations'
Lorry driver Chinoona Mwanda, 35, appeared on Monday at a magistrates court in the town of Chivu in the province of Mashonaland East, about 200km (124 miles) south-east of Harare.
His lawyer earlier said Mr Mwanda would deny a charge of culpable homicide as he blamed the collision on the poor state of the road.
But the truck driver was not asked to plead at Monday's hearing. Mr Mwanda was granted bail of $100 (£72) and ordered to hand in his travel documents ahead of his next court appearance on 23 March.