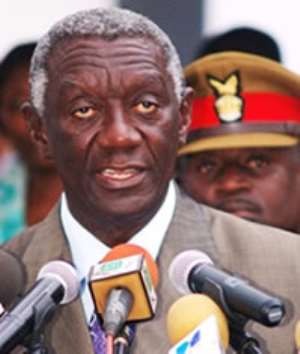 The spokesperson of former president Kufuor says the Mills administration will be breaching the constitution if it insists that Mr. Kufuor should return state vehicles in his possession.
Government has written to the former president to return some BMW state vehicles to be replaced with Chryslers.
But Mr. Frank Agyekum, spokesman for the former president, says any such move will amount to varying the conditions of the former president which is unconstitutional.
According to the Constitution, the conditions of the former president shall not be varied to his disadvantage.
But government has issued an ultimatum to the former president to return the vehicles to the national security outfit by close of Monday, March 09, 2009.
This is because the vehicles, which include a number of luxury BMWs are part of the VVIP protection vehicles under the command of the national security. Former president Kufuor therefore cannot continue to use them.
But Agyekum rejected the suggestion arguing the vehicles formed part of Mr. Kufuor's conditions while in office and therefore changing them will affect his comfort which is tantamount to a variation of his conditions.
"What we are trying to do now is to vary terms that will be detrimental to his condition because the Chryslers… I am afraid are of a lesser value than the BMW vehicles."
The head of protocol at the presidency, Mr. Victor Smith, however, believes Mr. Agyekum's argument is untenable.
He told Joy News the former president was misinformed about the custody of the cars.
"I had a chat with the National Security Co-ordinator…and it was clear that the former president had been misinformed by his previous official responsible for presidential security… that he could keep those vehicles. Unfortunately he is unable to keep vehicles which were specifically brought in for the protection of the Chief Executive of the land."
He said because of the misinformation, the national security is insisting that the vehicles be returned and appropriate vehicles assigned Mr. Kufuor.
"These particular vehicles we are talking about are specifically brought in for the president's security so he cannot continue to use those vehicle and they are going to be retrieved," he emphasised.
Story by Malik Abass Daabu