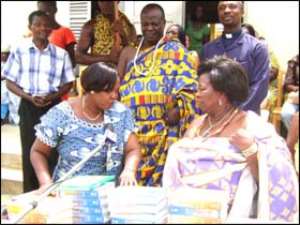 Ms Valentia Quame receiving the books from Naa Atswei Adoma The Teshie Presbyterian Senior High School has received books worth about $5000 from Naa Atswei Adoma, Mankralo Manye of Teshie as her input towards the development of the school.
The books constitute Naa Atswei Adoma's share of a consignment sent from the Huntsville, US chapter of Friendship Force, an international NGO, to its chapters at Tema and Legon, of which she is a member.
Presenting the package, the Manye advised the students to shy away from bad behaviour and stick to reading.
She also cautioned them against the influence of naughty and delinquent students who indulge in smoking and drinking, saying such friendships will jeopardize their ambitions.
She further called on other well-meaning residents of the town to come to the aid of the school so as to help upgrade it to expected standards.
Valentia Quame, Headmistress of Teshie Presec, who received the books on behalf of the school, expressed gratitude to the benefactors and pledged to use the books to enhance the teaching of subjects in the students' curricula.
She noted though that the school was badly in need of a modern computer laboratory, an assembly hall, library, canteen, more classrooms and modern facilities, and expressed the hope that corporate organisations would come to the aid of the school so it could register higher academic achievements.
Magdalene Apenteng, Vice President of Friendship Force, Ghana, said the organisation's mother office in Atlanta, USA, has assisted a lot of institutions both in cash and kind, adding that it has plans to replicate the gesture in other parts of the country as soon as practicable.
Present at the ceremony were Nii Adjei Krakue II, Tema Mantse and many other queenmothers from various parts of Accra.
By Samuel Boadi