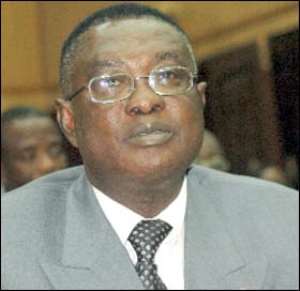 Awuku Sakyi Amoah, AIDS Commission-Chairman STATISTICS GATHERED by the DAILY GUIDE indicate that close to 20,000 people live with the deadly HIV/AIDS disease in the Brong Ahafo Region, a situation officials have described as "very scary."
It said between 1986 and 2008, a total of 19,849 people tested positive of the number one killer disease.  
The Brong Ahafo Region is the 4th highest region in Ghana in terms of the HIV/AIDS national ranking.  
Presenting the 2008 review of HIV/AIDS control activities in the region at Abesim at a workshop organized by FIDA-Ghana, Nat Dzadey, the Brong Ahafo Regional Monitoring and Evaluation Focal Person of the Ghana AIDS Commission, disclosed that 2,555 HIV/AIDS cases were reported last year as compared to 2,200 cases reported in 2007.  
According to him, there has been a consistent increase in the trend of reported cases since 2000 and called for pragmatic measures to address the menace.   Mr. Dzadey hinted that out of the 17,593 blood donors who were screened last year, 1,191 were found to be HIV positive. The proportion of donors tested to be HIV positive represented 6.7% as against 4.9% in 2007.  
He noted that ages 15 to 54 happen to be the most vulnerable age groups and are highly prone to acquiring the disease due to their sexual activeness.  
The Regional Monitoring and Evaluation Focal Person attributed the high prevalence rate of HIV/AIDS partially to the region's proximity to the Ivorian border where the disease is said to be endemic, indiscipline and greed for material wealth among the youth.  
On solutions to curb the alarming spread of the disease in the region, Mr. Dzadey called for the intensification of what he termed "Behaviour Change Communication". This he said which will ensure the promotion of sexual abstinence among the youth, condom use, the promotion of Counseling and Testing (CT) and Prevention of Mother To Child Transmission (PMTCT), among others.  
In addition to that,    he recommended the building of capacity in districts to monitor the increasing number of CT and PMTCT sites and providing enough funds for the implementation of the 2009 planned activities.  
Commenting on the challenges facing his outfit, Mr. Dzadey stated that the lack of coordination and collaboration among stakeholders, as one of the many setbacks crippling their efforts.
Meanwhile, the Director General of the Ghana AIDS Commission, Prof Sakyi Awuku Amoah, donated a computer and accessories worth GH¢1,500.00 to the Brong Ahafo Regional AIDS Control Board to help check statistics and coordinate the activities of AIDS in the region.  
Making the donation on behalf of the Director General, Samuel Dery, an official of the Commission and Kenneth Yeboah of the USAID, called on the Regional Coordinating Council to take a keen interest in AIDS prevention issues.
By Sheilla Sackey