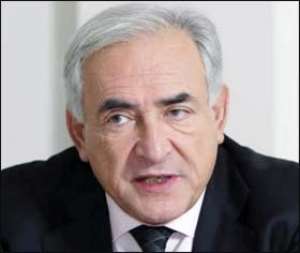 Dominique Strauss-Kahn The International Monetary Fund (IMF) has called on the international community to act urgently to avoid the devastating effects of the current financial crisis on Ghana and others classified as most vulnerable countries.
"After hitting first the advanced economies and then the emerging economies, a third wave from the global financial crisis is now hitting the world's poorest and most vulnerable countries," IMF's managing director, Dominique Strauss-Kahn, said at the launch of a new IMF study in Washington DC.
The study, entitled: "The Impact of the Financial Crisis on Low-Income Countries", stated that more than 20 countries were vulnerable to the unfolding crisis.
Apart from Ghana, other countries are Angola, Nigeria, Zambia, Burundi, Cote d'Ivoire, Liberia, Haiti, Honduras, Kyrgyzstan, Albania, Moldova, Mongolia, Papua New Guinea, Sudan and Vietnam. "More than $25 billion in urgent concessional financing will be needed this year in the most affected countries.
"Much more may be needed given the heavy downside risks to the global economic outlook, and the prospect of more countries being affected as the crisis deepens," the study said.
The IMF chief said the crisis put at risk the major achievements of higher growth, lower poverty, and greater political stability that many low-income countries have made over the past decade. He urged donors "to rise to the challenge and provide the financing needed to preserve these hard-won gains and prevent a humanitarian crisis.
"At a time when the advanced economies are spending hundreds of billions of dollars on fiscal stimulus and financial sector restructuring, we must find room to help low-income countries," Strauss-Kahn noted.
He also warned that lower growth could have serious implications on political stability and level of poverty, adding, "Spending on targeted social safety net programmes should be ramped up to protect the poor."
Strauss-Kahn emphasised his goal to double IMF's concessional lending capacity.
He added that the IMF was looking at ways to make its lending to low-income countries more flexible to reflect their growing diversity.
"The IMF is mounting an extraordinary response to what is an extraordinary crisis facing the world's poorest economies," he said.
By Felix Dela Klutse