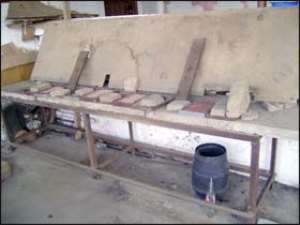 The suitcase 'manufacturing plant' A RECENT CONCERN expressed by Vice President John Mahama that certain Chinese companies were usurping the retailing rights of local traders appears to be receiving little respect as some of these foreign investors continue to show no sign of letting go of retailing.
A visit by City & Business Guide to Huashun Manufacturing Company Limited, a Chinese suitcase assembling firm at Laterbiorkorshie near Accra, on Friday revealed the foreigners engaging in both wholesaling and retailing of suitcases to buyers.
An insider of the firm, who hinted this paper of the perpetration of this disrespectful act by these foreigners, said the company is illegally operating in Ghana since its owners allegedly did not duly pay the minimum entry contribution of $50,000 required by the Ghana Investment Promotion Centre of wholly-owned foreign companies.
Delving deep, the source alleged that the immigration status of the foreigners was questionable since they were staying and operating in the country on a visitors' visa.
While the company's location has been given as HNo. C2/386, Ring Road Central, opposite Paloma, Accra, on the GIPC registration certificate, the company actually is found at Laterbiorkorshie, an indication of the practice of double standards by the company.
Also, a manufacturing plant and heavy equipment are among some of the apparatus expected to be seen on the company's site, but in the case of Huashun, a table-like structure with pieces of cement blocks and rusty metals constitute the plant, in addition to three sewing machines.
"What shows that this is not a suitcase manufacturing plant? I can prove to you that this is a plant," Huan Zequan, a Chinese national and employee of the company, who showed this reporter around their residence at Laterbiorkorshie, where also the assembling of the suitcases take place, said.
The suitcases, usually loaded on heavy trucks, are taken to Kantamanto and other retailing points in Accra both for retailing and wholesaling to buyers who unsuspectingly perceive the suitcases as imported.
It is hoped that the relevant agencies would follow up this issue to at least check these foreigners and instill discipline in them.
By Samuel Boadi