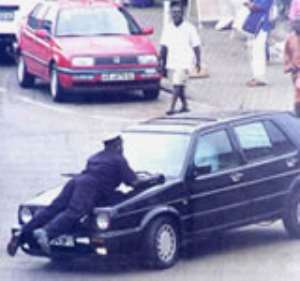 A Transport Police Unit is to be established within the Ministry of Transport to undertake road patrols to pre-erupt road accidents.
The unit will replace the Police Motor Traffic and Transport Unit (MTTU) and will be solely responsible for enforcing road traffic regulations, and ensuring safety on all urban and feeder roads nationwide, Transport Minister, Mike Hammah, told the Times in an interview in Accra.
Mr Hammah said recruitment of personnel for the unit would be done in the course of the year by the Ministry of the Interior in collaboration with his outfit and "the public should expect them on the roads before the end of the year".
"Immediately the unit is introduced, the MTTU will be scrapped, meaning that some personnel of the MTTU will be drafted into the Transport Police department of the ministry while the rest will join the normal Police Service."
He said this short to long term measure, formed part of the ministry's plans to find solution to the carnage on the country's roads.
The introduction of the unit, he said, will however be preceded by intensive public education, reengineering of the road systems and enforcement of road and other regulations to ensure discipline on the roads.
"The transport police will be a special unit within the Transport Ministry, like the CID of the Ghana Police Service. Their salaries, logistics and other equipment will be borne by the Transport Ministry," he said.
He said the transport police officers will undergo police and security training and will be identified by their special uniform.