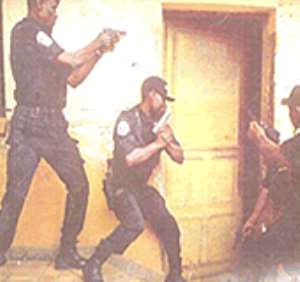 Calm has returned to the Volta Regional town of Afuta, near Agbozume after a confrontation between residents and policemen who scaled the walls into a house in search of a suspect.
The action of the police followed a complaint by a cyclist that he was assaulted by some people in the town on February 28 this year, after he accidentally rode through them.
Acting on the complaint, five policemen went into the town and scaled the fence into the house around 0300 hours, but failed to locate the suspect.
An elder in the house told the Ghana News Agency that the sound of the policemen scaling the wall woke them up and that they came in wielding guns and demanding the whereabouts of a suspect who, they claimed lived in the house.
The enraged occupants of the house and some neighbours confronted the police on why they should scale the wall into the house at such a time arguing that they could have knocked and entered through the doorway.
The residents also asked the police to apologise. But the police insisted that they acted within the law and threatened to arrest the people should they attempt to harass them.