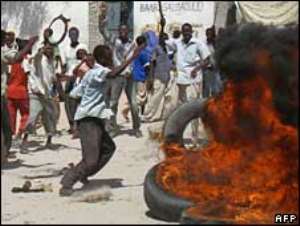 The District Coordinating Director of the Talensi-Nabdam District, Mr Alhassan Fuseini, has advised the youth not to allow themselves to be used by selfish people to achieve their motives.
He told them to rather channel their energies and time into more productive activities in order to become more responsible adults to contribute their quota to national development.
In an address to mark the 52nd Independence Day celebration held in Tongo on Friday, Mr Fuseini said the current conflict among the feuding factions in Tamale and Bawku was retarding development and urged people who were involved in the conflict to ponder over the effects and desist from that.
Mr Fuseini said after 52 years of independence Ghanaians should be able to build and leave good legacies for the future generation.
He noted that though Ghana through its democratic culture had become the beacon of hope for Africa, there was the need to shy away from conflicts, and appealed to Ghanaians to learn to co-exist in peace and harmony.
Commenting on the forecast by the Metrological Service that there could be floods this year during the rainy season, Mr Fuseini asked residents of the three Northern Regions to prepare adequately towards any eventuality.
He entreated people in the area to ponder over the loss of lives and properties worth millions of cedis destroyed by floods in the past.
Mr Fuseini indicated that the wanton loss of lives and properties caused by the floods especially in 2007 was not pleasing and people should listen to the cautions being given by weather forecasters.
He said municipalities and districts in the Northern Regions have mapped up strategies to sensitize the people on the dangers of floods and rainstorms.
Mr Fuseini admonished people living in the low-lying areas and along riverbanks to take extra precaution for their safety during the rainy season.