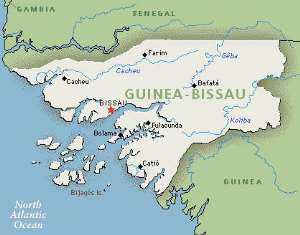 In African cosmology, groups or families, like individuals, have soul – some are dark, some troubled, some good, some enlightened by birth as a metaphysical pre-destination. By birth and by its existential conducts, Guinea-Bissau is a troubled soul, since its birth in 1974 from Portuguese colonialism.
The country is mired in some kind of never-ending self-destruction as if haunted by some demons that it has gravely offended that Guinea-Bissau cannot exorcise itself from their retributions.
Once again, and true to its dark soul, a chasm opened and black birds flew out and Guinea-Bissau's President and its Army Chief were killed virtually simultaneously and the country thrown off-course – a throwback to Guinea-Bissau's anachronistic, never-receding nightmares. Nowhere in West Africa than in Guinea-Bissau where the terrifying rot in private minds eats away openly at public responsibilities, creating perpetual instabilities and, as the Greek thinker Thucydides would say, democratic stasis, where there are symptoms of perpetual disturbances of individual Guinea-Bissauans and the Guinea-Bissua state.
The rapid twin assassinations reveal the disturbed soul of Guinea-Bissau – a country in some sort of permanent bereavement, disturbed by worthless egocentricism, and caught in some sort of depressing Sisyphus dilemma, where there are constant repetitions of mindlessness. Some important part of Bissau's mind has gone over into a territory of permanent pain, denial of its despicable self and evasion. No doubt, Latin American noxious drug cartels have easily possessed Bissau's feeble soul and turn it into a leading drug hub of West Africa.
Helpless, for some time Guinea-Bissau's 1998-99 civil war was largely a surrogate war for the Senegalese Casamance conflict, with the separatist Movement of Democratic Forces in Casamance and Senegalese troops moving in and out of Guinea-Bissau freely to support opposing sides.
Though Guinea-Bissau is small, its affairs are so convoluted and daunting for its size that even its citizens do not understand its metaphysical drama and pains, 34 years after independence. ECOWAS, the regional group, regularly move between Abuja and Bissau to cuddle the autistic country, most times without any concrete positive results. You have to be one of the booming spiritualists who roam Guinea-Bissau's to understand it, against the backdrop of its elites not providing any answers to the country's gloomy state of affairs. Not surprisingly, a country of only 1.5 million people is among the poorest in the world, being ranked the 175th out of 177 nations in the U.N. Human Development Index that measures human welfare globally.
The long smouldering enmity between the late President Vieira and the late Army Chief Waie till their deaths on March 1 and 2, 2009 broadly reflects the situation among Guinea-Bissau's elites – where hatred, immaturity, fatal Pull Him Down (PHD) syndrome, deadly tribalism, self-destruction, mistrust, and frightening tension dominate Guinea-Bissau's existential life, the poor Guinea-Bissauans hopelessly entrapped in the darkness. All these against the milieu of juju-marabouts mediums, witchcraft and witchdoctors roaming the country, and further screwing up its frail soul.
In 1998, Guinea-Bissau's late egotistic army chief-of-staff, Brigadier-General Ansoumane Mane, who held the distressed country for ransom for some time, was believed by superstitious Guinea-Bissauans that he could vanish into thin air, transform into a dog, a cat, a bird, or a fly. But Gen. Mane was killed all the same in his attempts to take over the country unconstitutionally in 1999 – that ended the civil war. Up till now Gen. Mane's name conjures up nightmarish images of fear, threats, political disorder, bloodshed, deaths, harassments and gloom-and-doom.
Disturbed by negative superstitions, the armed rebellion that begun in 1956 by the African Party for the Independence of Guinea and Cape Verde (PAIGC), under the late Amílcar Cabral, won freedom in 1974, and following that in some inexplicable bizarre spiritual ways, the PAIGC ritualistically killed thousands of Guinea-Bissauans who had fought along with the colonial Portuguese Army against PAIGC guerrillas. And they were buried in unmarked graves. Since then Guinea-Bissau has not known peace, as if haunted by some ghosts or evil spirits, its general affairs driven by destructive aspects of African spiritual practices through its toxic acrimonious elites who dabble heavily in juju-marabout rituals.
Dirk Kohnert, in Magic and Witchcraft: Implications for Democratization and Poverty-Alleviating Aid in Africa, reports that during the Guinea-Bissau liberation war against the colonial Portuguese Army magic and witchcraft were used freely by PAIGC guerillas. Such negative practices is believed to have persisted even after independence from Portugal. In the ensuing years, Guinea-Bissau elites did not care much for the ordinary folks who helped them defeat colonial Portugal. The ordinary folks used witchcraft, locally called nyang-nyang, to disturb the paternalistic "Big Men." The "Big Men" countered by employing juju-marabou mediums to protect their affairs. Some sort of withcraft warfare cropped up, with curses and negative energies spilling around. Though the nyang-nyang was banned, the ensuing self-destructive behaviour of Guinea-Bissauan "Big Men" is believed to be caused by witchcraft attacks on the useless "Big Men."
The durable solution for transforming Guinea-Bissau's dark soul into bright and calm one is democracy (as part of broader dialogue with itself and the West African region), the rule of law and greater freedoms. The regional body, Economic Community of West Africa States (ECOWAS), and the International Contact Group on Guinea-Bissau comprising the European Union, Africa Union, United Nations, Lusophone (Portuguese-speaking) nations and other stakeholders are aware of this and they will be doing that in the coming days as a way of curatively boxing in the errant Guinea-Bissau into Ecowas democracy radar.
It is from such periodic democracy and freedoms massaging, as a therapeutic and spiritual process, that will put some light into the dark recesses of Guinea-Bissau. Clinically or secularly, in Dark Night of the Soul, the 16th century Carmelite priest Saint John of the Cross, described the freeing of one's ego, an authentic Guinea-Bissau fixation, as it holds back the self, as a way of making room for some form of transformation, as a way of re-defining oneself, especially one who is spiritually and existentially disturbed like Guinea-Bissau. The intervening period, consequently perceived as the "darkness," can be "frightening," as Guinea-Bissau's situation reveals.
As top Ecowas democracies Ghana, Mali, Cape Verde, and Benin show, the antidote to Guinea-Bissau's "darkness" and "frightening" self, as a transformational act, is democracy, greater dialogue, larger rule of law and bigger freedoms.