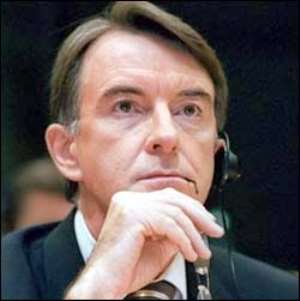 Lord Mandelson Police have said they are investigating an incident in which an environmental campaigner threw green custard at Business Secretary Lord Mandelson.
No complaint has yet been made against Leila Deen after she confronted Lord Mandelson before he was due to take part in a low-carbon summit in London.
But former ministers and opposition parties have condemned the incident.
Lord Mandelson said the issue was a matter for the police but said people should not "overreact" to it.
'Unacceptable'
The police are not obliged to investigate an incident of this kind unless a formal complaint has been made.
However, former deputy prime minister John Prescott has said it would be "totally unacceptable" for the matter not to be investigated and has urged that Ms Deen be arrested.
Mr Prescott - who punched a protester who attacked him in 2001 - said public figures should be able to go about their business without fear of being attacked.
A member of the Plane Stupid campaign group, Ms Deen said she had targeted Lord Mandelson because of his support for a new runway at Heathrow airport.
She described the move as a "last resort", arguing that critics of the controversial runway plan had been excluded from the democratic process.
She said the peer was unaccountable to the public and had sided with big business against the interests of the public.
Lord Mandelson has attempted to play down the incident, saying he would have preferred to talk to critics face to face.
He said he did not want to go back to a situation where he had to have 24-hour police protection as he did when he was Northern Ireland secretary.
The Conservatives said environmental campaigners had not "advanced their cause" by acting in such a way and should seek other ways to influence the democratic process. BBC
Ms Deen, who works for an anti-poverty group, has taken part in a series of anti-runway protests including one against Transport Secretary Geoff Hoon at the same London venue on Thursday.
'Direct action'
She justified this latest "direct action" as the best way of bringing about change.
"When democracy is failing you have to resort to any means necessary as long as it is peaceful and does not harm other human beings," she said.
Lord Mandelson dismissed the protest as a "crude" stunt but said he was grateful that the substance concerned was not "nastier".
He rejected Ms Deen's claims about the third runway, approved by the government last month despite opposition from residents and many MPs, saying he was accountable to Parliament.
He said the incident had merely brought attention to the UK's need for a greener economy.
"I suppose in a democracy people are entitled to have their say but I would rather people said it to my face rather than throw it," he joked. Ms Deen was arrested in 2005 after she climbed up a 150ft crane in Edinburgh to draw attention to third world debt and government aid policies during the G8 summit at Gleneagles.