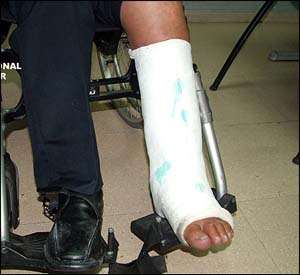 Cast made of drugs A SMUGGLER has been caught wearing a plaster cast – made of COCAINE.
Spanish cops stopped the Chilean man – who actually had a broken leg – in Barcelona.
The 66-year-old man was arrested with the cast which was made of 1kg worth of cocaine.
Police said the man's left shin was broken deliberately so it could be fitted.
He also had cocaine stashed in six beer cans which had been resealed.
He was trying to smuggle 5kgs of the drug in total.
The man was caught after a chemical was sprayed on the cast which turns bright blue when it comes in contact with cocaine.