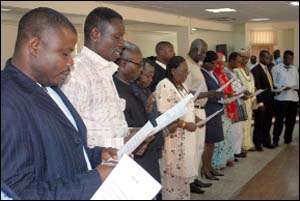 A cross section of the government appointees EIGHTEEN government appointees for the Tema Municipal Assembly (TMA) have been sworn-in during a ceremony at the TMA's main hall.
The appointees were sworn-in by Justice Nana Dwamena-Tawiah, a Tema High Court Judge.
The appointees made up of 12 men and six women included Prince Mortey, Anthony Nukpenu, Joseph Tetteh, Samiratu Mohammed and Elis Aferi. Others are Alhaji Antia Tetteh, Isaac Arboah, Janet Boye, Anthony Bibas, Wilson Agana, John Mitchell and Mustapha Darko.
The rest were Sampson Aheto, Humphery Adjei Agoe, Esther Abbey, Susan Adona, Joyce Akpatsa and Mirriam Okudzeto.
Caleb Dorfenyo polled 28 votes to take up one of the two spots reserved at the Electoral College when he beat five other contestants in an election supervised by Michael Boadu, the Director of Electoral Commission branch of the Tema Metropolitan Area. The other spot was won by Wisdom Gadusu who polled 26 votes in an election that saw 53 people vote for two of five candidates each.
The four other contestants were Elis Aferi who only managed five votes, Janet Boye six votes, with Samira Mohammed getting 16 of the 53 votes and Alex Nii Annan taking the third position with 23 votes.
Welcoming the newly sworn-in members, Kwaku Akpotosu, the Coordinating Director of the assembly, congratulated the new appointees on their appointments and urged them to work in partnership with other Assembly Members to ensure that it achieves its desire of being the best assembly in the country.
 The Coordinating Director thanked the out-gone government appointees for contributing their quota to the development of the assembly.
Earlier on, there was drama when Mr. Kwaku Akpotosu said he had earlier received a letter from the Regional Minister through the Regional Coordinating Council (RCC) asking for the postponement of the election of a Presiding Member.
The announcement which seemed not to have gone down well with some members generated a debate, with some arguing that the Coordinating Director had breached the constitution.
They explained that in the standing orders, there was no word like swearing-in but rather inauguration.
They explained further that a Presiding Member was always elected shortly after the inauguration of the government appointees and added that they did not understand why the inauguration of the appointees could come on without the election of the Presiding Member.
A Solicitor of the assembly calmed matters when he explained   that the Coordinating Director was only passing on a message from above and pleaded with members of the assembly to help make the ceremony a successful one.
From Razak Mardorgyz Abubakar, Tema