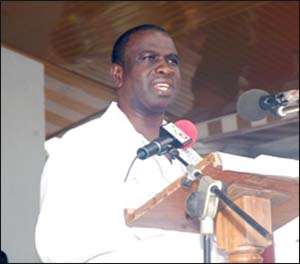 Kwadwo Nyamekye-Marfo THE BRONG AHAFO Regional Minister, Kwadwo Nyamekye-Marfo, has observed that despite the mistakes, setbacks, obstacles and shortcomings during Ghana's fifty-two years of nationhood, substantial progress has been made in the nation's socio-economic and political development.   
The resilience and commitment of the good people of Ghana, he said, have contributed to the country's ability to rise above challenges to build a strong economy.   
Speaking at a colourful ceremony in Sunyani yesterday to mark Ghana 's 52nd Independence Anniversary, Mr. Nyamekye-Marfo called on Ghanaians to use the occasion to rededicate themselves to the nation, saying "together in peace and unity we can achieve national development and prosperity, which we wish to hand over to future generations."   
"We have to remind ourselves that development can only take place within a peaceful and stable political and social environment," he added.   
He paid special tribute to the sacrifices made by Ghana's founding fathers and successive governments whose contributions and commitment have brought the peace, tranquility and political stability the nation is currently enjoying.   
Mr. Nyamekye-Marfo said Ghana had chosen democratic rule with its associated elections to elect our political leaders.   
"Since 1992, we have had five presidential and parliamentary elections. In spite of the heated debates and acrimony during electioneering campaigns, all elections have ended peacefully," he noted.   
According to the Regional Minister, this positive development had "put Ghana in the limelight in world politics and there was no turning back."   
He thanked the people in the region for the various roles they played during the December 2008 elections and the peaceful manner in which voting was conducted in the region, adding, "It is indeed a victory for all of us and the country at large."   
He asked all Ghanaians to come together as one people so as to maintain the needed peace for a rapid economic development now that the elections are over.   
Mr. Nyamekye Marfo further challenged school children to strive to become responsible and patriotic citizens as they grow up.   
He explained the reasons why children have been made the centre piece of Ghana's Independence celebrations, saying it is the nation's attempt "to nurture the younger generation so they can understand and take pride in our national heritage and grow up to become patriotic citizens."   
"It is also intended to prepare them for the responsibilities, which they, in turn, will have to shoulder in the future and this we can do through the provision of appropriate and relevant education to our youth," he added.   
More than 350 contingents from the Ghana Armed Forces, Police, Prisons, Fire Service and CEPS, including 19 Primary Schools, 17 Junior High Schools and 12  Senior High Schools   totaling over 500, formed the parade and marched past the dais. Prizes were also presented to hardworking students who have excelled in their various academic endeavours.  
Also present were traditional authorities, political party representatives, the clergy, and the public.
From Fred Tettey Alarti-Amoako, Sunyani