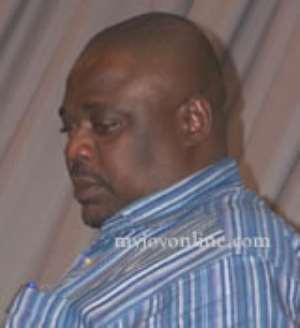 The seat of government is obviously unhappy with comments emanating from certain quarters, which seek to create the impression that President Mills has deceived Ghanaians with his promise to run and keep a lean government.
In response to one of such comments by Ato Kwamena Dadzie of Joy FM's Newspaper Review fame, who has not just cultivated a habit, but equally takes delight in making fun of public figures, the Head of Communications at the Presidency, Koku Anyidoho, did not pull his punches, as he went all out to launch a blistering attack on him.
In a statement, Koku noted, "as a professional, I have restrained myself from allowing the ignorance of certain persons and their discourse, to draw me into an ignorance-filled debate."
He, however, noted, "when Ato Kwamena Dadzie decides to move the ignorance-filled discourse to absurd levels, it is only proper that I do my utmost best to clear some of the cobwebs in the head of Ato Kwamena Dadzie."
In his piece that appeared in The Daily Dispatch on Thursday, March O5, 2009, titled "Team Mills: not so lean", Ato Kwamena Dadzie made some postulations, which Koku said he finds very wonky.
Koku wondered why Ato Kwamena Dadzie thinks that by appointing 75 ministers, the President Mills was not keeping to his promise of having a lean government, forgetting that he has cut-off four ministries and not reached the 88 mark, as in the case of the former New Patriotic Party (NPP) administration, led by President Kufuor.
Meanwhile, he noted that the President had stated in unequivocal terms that his tenure would have no space for Special Assistants for Ministers and other government officials, as was the case in the previous administration.
Whilst indicating that through this, some significant savings would accrue to the government purse, Koku could not, but pose a rhetorical question, "and who says running a lean government is only about the number of ministers?"
To him, the rationale behind running a lean government, is to run a lean budget, saying, "so, if His Excellency the President, has decided to have only three vehicles in his convoy; has decided to live at the Castle instead of his Regimanuel Estate home, thereby cutting down his fuel consumption; has decided to significantly slash protocol budget, evidenced by his cancellation of two state banquets so far, and his refusal to embark on useless trips outside the country, Ato Kwamena Dadzie should engage in some cursory mathematics, and he will realise that His Excellency the President is committed to keeping a lean expenditure regime."
In leading by example, he emphasised that the President would manage a lean budget at the Presidency, and will not allow his ministers to abuse their privileges.
What seemed to bore Koku most, was Ato deriding his personality by claiming that he (Koku) was appointed to the position of Head of Communications at the Presidency as a way of massaging his ego.
"Ato Kwamena Dadzie may have an educated opinion on a number of issues but his postulation on the roles of the Head of Communications and Spokesperson pans him out as not having a hold on the distinct and separate functions of myself and Mahama Ayariga," he noted, stressing, "I am not about to be the fly that follows the corpse into the grave, and so 1 will not run through my schedule with a comb."
For Ato to know that he is not wearing a 'crown' to 'salve' his 'bruised ego,' as he claimed in his articles Koku said. "I will leave Ato Kwamena Dadzie to educate himself on the role public relations plays in modern day image and information management.
He therefore advised Ato to find time to conduct a search through the Google search engine about the White House working structure, stressing that he would wake up to the realisation that the decision of President John Atta Mills to have a Spokesperson and a Head of Communications was nothing new.
"I am not running away from the fact that in the heat of the campaign, issues had to be addressed forcefully, and if that is what Ato Kwamena Dadzie refers to as raving and ranting, so be it!" he emphasized, stressing, «indeed, if the clock of time is wound back, and 1 situate myself in the context of the 2008 election, I will do the same things I did without any qualms at all."
Koku Anyidoho ended up by extending an invitation to Ato K wamena Dadzie, to pass by his office in his own free time, since he was ready to give him his job description and that of Mahama Ayariga.
In the last breath, he noted, «let me state for the records that I am not going to expend my energies responding to needless issues. The President has been given the mandate to build a better Ghana, and in my capacity as the Head of Communications at the Presidency, it is my job, per the heavy responsibility I carry, to support the President to build a better Ghana.