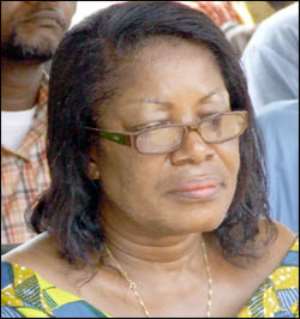 Ama Benyiwa Doe THE CENTRAL Regional Minister, Ama Benyiwa Doe has called on stakeholders in the region to put their hands on deck to reduce the level of poverty that has been associated with the people.
According to the Regional Minister, her priority is to ensure that poverty was reduced in the region so that it can regain its lost image.
"Let us put our political affiliations aside and work together as one people seeking a common destiny for the region".
Madam Benyiwa Doe made the call on Wednesday, when she interacted with media practitioners in the region at Cape Coast.
She also called on the media to assist her find lasting solutions to numerous problems facing the region.
The Regional Minister expressed concern about the mounting tensions regarding the distribution of pre-mix fuel in the region and called on the fisher folks to exercise patience since the Ministry of Agriculture was putting measures in place to ensure transparency in the sector.
Madam Benyiwa Doe emphasized the need for chiefs and other stakeholders to help improve on the falling standard of education in the region.
She announced, "For the next 4 years, the NDC will fulfill most of the promises it made to the people while on campaign platforms.
"I am going to ensure that the Central Regional Development Commission (CEDECOM) is revived to enable me assist all the major and small scale industries in the region and to create employment for the people," she added.
She said measures were been put in place to rehabilitate castles to develop other tourist site in the area.
This would help generate more funds to boost the local economy. 
Madam Doe earlier met members of the Central Regional House of Chiefs at Cape Coast where she formally introduced herself as the Regional Minister.
From Sarah Afful, Cape Coast