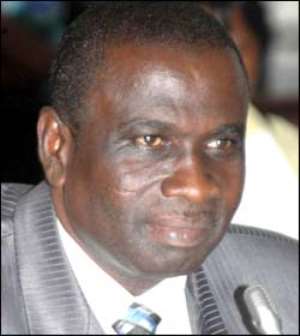 Kwadwo Nyamekye-Marfo PLANS ARE far advanced to establish the first public university in the Brong Ahafo Region to be known as the University of Energy and Natural Resources, Kwadwo Nyamekye-Marfo, Brong Ahafo Regional Minister has hinted.  
This, he explained, is in fulfillment of President John Mills' promise made during his electioneering campaign in the region that he would set up a public university there when elected president.  
According to Mr. Nyamekye-Marfo, government will pursue this agenda within the next four years to ensure that the campaign promise is fulfilled in an attempt to address the educational needs of the many enterprising youth in the area.  
Addressing students and staff of the Sunyani Campus of the Faculty of Forest Resources Technology (FFRT) of the Kwame Nkrumah University of Science and Technology (KNUST) during the launch of the Students Representative Council (SRC) Week and Home Coming ceremony, Mr. Nyamekye-Marfo said government plans to convert the FFRT campus into the proposed university.  
The Brong Ahafo Region is among the few regions in Ghana without a public university, nevertheless the region boasts of at least three private university campuses, namely the Catholic University College of Ghana, the Techiman Campus of the Valley View University, as well as the Methodist University Agricultural Faculty at Wenchi.  
The Regional Minister promised government's commitment to construct a modern library facility at the campus to aid the research work of students.  
Delivering a paper on the theme for the celebration, "Greening Ghana; The Role of The Government and The Individual," Joe Ackah, a senior lecturer of the faculty, called for immediate action to stop the wanton destruction of the country's forest resources to avoid the risk of undermining their vital function in maintaining a habitable planet.
"Already, forest loss is contributing to the extinction of plants and animals, increased flooding and disruption of climate patterns," he added.  
He further noted that the decline of forests have added to social and economic distress all over the world.  
Greening Ghana is a governmental action to create awareness on tree growing and management within the populace.  
The President of the SRC, Eric Amoadu Boateng, said the launch of SRC week and Home Coming was the first of its kind on the FFRT Campus.  
He stated that a foundation stone would be laid from the seed money realized through the celebrations, part of which, he said, would be used to acquire an SRC bus.  
Mr. Boateng disclosed that as part of the SRC week, students would plant trees along the Tano River at Chiraa in line with the theme for the celebration.
From Fred Tettey Alarti-Amoako, Sunyani