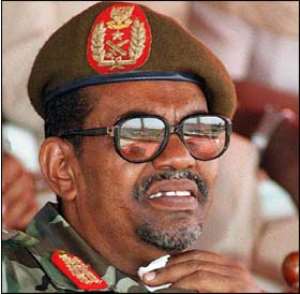 Omar al-Bashir Sudanese President Omar al-Bashir has angrily rejected the arrest warrant issued by the International Criminal Court (ICC) against him.
Mr Bashir told thousands of cheering supporters in the capital that Sudan would not "kneel" to colonialists.
He said he defied outsiders to come to Sudan and talk about human rights.
He is accused of two counts of war crimes and five of crimes against humanity in Darfur, in the first ICC warrant for a serving head of state.
Mr Bashir, 65, told a rally in the city's Martyrs Square: "We are telling the colonialists we are not succumbing; we are not submitting; we will not kneel; we are targeted because we refuse to submit."
The African Union (AU) decided at an emergency meeting on Thursday to send a high-level delegation to press the UN Security Council to delay the indictment.
Bruno Zidouemba, of the AU's Peace and Security Council, said the 53-member bloc hoped the move would "give a chance for peace in Sudan".
Sudan's envoy had earlier told the meeting that African states should withdraw from the international tribunal.
Mohieldin Ahmed Salim had urged the AU in the Ethiopian capital Addis Ababa to "issue a clear decision in strongest terms to reject the ICC decision," according to AFP new agency.
Asked whether the arrest warrant would affect President Bashir's ability to travel, Mr Salim said Sudan's leader would travel if he wanted to and would carry out his normal duties as head of state.
China, which buys much of Sudan's oil and sells it weapons, has also urged the court to postpone the case, warning it risked destabilising Darfur.
Some Arab nations have echoed fears that the ruling would hinder Darfur peace efforts, but the US and EU have welcomed Wednesday's ICC decision.
Sudan reacted to the ICC indictment by expelling 10 foreign aid agencies, including Oxfam, Care, Save the Children UK and Medecins Sans Frontieres from Darfur. BBC
Between them they supply food and water to some 1.5 million people who have fled their homes during the six-year conflict.
The agencies say lives will be put at risk but the government insists the aid groups all have political agendas and are using their humanitarian activities as cover.
'Lions and tigers'
Thursday's rally in the capital was the latest show of public support for Sudan's veteran leader.
The BBC's Owen Bennett-Jones in Khartoum says pro-Bashir supporters, some in cars with loud-speakers, shouted slogans denouncing the West.