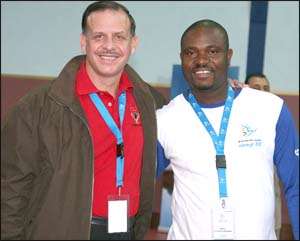 Nana Yaw and Prince Feisal Al-Hussein September 2009 will mark a new dawn in the lives of Ghanaian children as they will be taken through sporting activities to help them appreciate the critical importance of peace.
The project, "Generations for Peace Kiddies Olympics," is a Youth Icons-Ghana project under the broad vision of the Global Peace Initiative - Generations for Peace, a global initiative by His Royal Highness Prince Feisal Al-Hussein of Jordan to promote global peace among children using sports.
Briefing the media in Accra, the Executive Director of Youth Icons-Ghana, Nana Yaw Osei-Darkwa who is a trained Peace Pioneer of Generations for Peace, stressed that it was important children were exposed to the tenets of peace in their early stages.
He reiterated the crucial importance of children to any country's future, adding, "We should walk the talk by supporting initiatives like this in ensuring that we rise in life, for what we are today is a result of the environment we grew in and the upbringing we got from our parents and guardians.
"Paramount to all is the peaceful atmosphere we find ourselves in, and under no circumstance should we deny our children peace."
He was full of praise for His Royal Highness Feisal for not restricting the programme to his country but gave it a global perspective.
Nana Yaw Osei-Darkwa said the dream of Prince Feisal Al-Hussein had the potential to make a huge impact on humanity if other world leaders and corporate institutions support the Generations for Peace initiative.
He indicated his outfit's readiness to push hard the agenda of Generations for Peace in Ghana to ensure that the noble ideals of the project, which include promoting peace among children in conflict areas, were achieved.
He hinted that in September this year, the northern regional capital of Tamale would have the privilege of hosting the maiden Generations for Peace Kiddies Olympics which would attract about 200 children from Tamale and its environs who would be engaged in games to promote friendship.