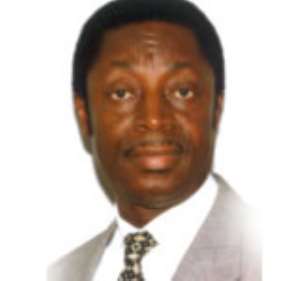 Dr Kwabena Duffuor - Finance Minister Fuel prices could go down anytime soon but by a slim margin, if the tax law on petroleum products is reviewed by Parliament.
As at the time of going to press yesterday, Parliament had reconvened to consider making amendments to the specific legislations after the Finance Minister, Dr. Kwabena Duffuor had presented this fiscal year's budget. The bills are the Customs and Excise (Petroleum Taxes and Petroleum ) Related Levies Bill, 2009 and the Debt Recovery (Tema Oil Refinery Company) Fund Bill, 2009.
"In fulfillment of the National Democratic Congress (NDC's) promise of reducing fuel prices when it wins power, petroleum taxes would be adjusted downward," Dr. Duffuor disclosed in Parliament yesterday.   
However, sources say fuel prices may not go down by more than five percent even when some taxes on the products are relaxed, meaning petroleum products would see insignificant changes in prices.
The last time fuel prices went down, premium or petrol which was then selling at GH¢1.06 per liter dropped to GH¢0.82 per liter whilst diesel traded at GH¢0.89, from the previous GH¢1.09 per liter.
The budget which was hinged on four principles including expanding infrastructure and investing in people, also highlighted government's policy initiatives that included reducing the high fiscal deficit of Gross Domestic Product (GDP) of 14.9 percent in 2008 to 9.4 percent in 2009.
As part of this, Dr. Duffuor said specific revenue and expenditure rationalization measures have been taken.
This includes reduction in provisions made for the purchase of crude oil for the Volta River Authority and restoration of food tariffs. Others were increases in airport tax, increases in road tolls and additional communication service tax.
The Finance and Economic Planning Minister however conceded that external pressures where oil escalated to an all-time record of $147 and the food crisis, caused the higher budget and current account deficits. It subsequently affected inflation which ended the year at 18.13 percent and the country's secondary reserves which now stands at $2.1 billion.
He also announced a merger of the three revenue collection agencies, namely the Customs, Excise and Preventive Services (CEPS), Value Added Tax (VAT) and the Internal Revenue Service (IRS).
He explained that the fusion of the three bodies will ensure efficiency in revenue collection and reduce administrative cost.
The budget also highlighted government key policy priorities for this fiscal year which is to improve social services especially provision of water and improved access to health.
On agriculture financing, government emphasized that it will review the Export Development and Investment Fund (EDIF) law to include the use of the fund for agricultural investment and infrastructure.
It also touched on continuing projects started by the past government including the National Health Insurance Scheme, the Capitation Grant and the construction of two fishing harbours and landing sites.
By Charles Nixon Yeboah