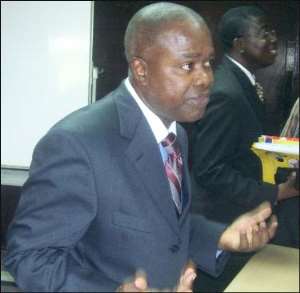 Charles Cofie Young marketing professionals aspiring to be chief executive officers (CEOs) have received a lecture on what it takes to get to that high position at a seminar organized by the Chartered Institute of Marketing, Ghana (CIMG).
The seminar, which is the first in a series, is part of CIMG's effort to promote professional development and enhance the productivity of the Ghanaian workforce.
Charles Cofie, Managing Director and Chief Executive of Unilever who shared his experience, made it clear that the CEO position is conferred on a nominee by a person or group of persons who have the power to do so and who believe that a potential appointee has the grit in his stomach.
Dubbed, "An Evening with Charles Cofie", the young aspiring CEOs were tutored on how to manage their schedules well.
Sharing his personal experience and lessons learnt over the years, Mr Cofie said for the position of CEO, one needs to acquire a diagnostic skill and transformational change management skill coupled with interpersonal skills.
He told the participants how it was important for them to develop themselves.
"My experience has taught me that successful managers grow from being able to do things right to doing the right things."
Failure, he stated, is also a powerful tool. "As in my case, learning from my failure changed my courses of action and thus guided me. So my advice is to fail early, fail often, but always fail forward."
He admonished them to be responsible, productive, focused, uphold integrity and be a source of energy to others rather than be a drain on their energy.
Genuine commitment, he noted, serves to differentiate managers of similar intelligence and competencies. "Think to yourself that, if it is to be, it is up to me."
In their quest to become CEOs, he urged the participants to learn everyday so as to develop themselves, have a positive attitude, share their learning relentlessly and never "let yourself be a victim".
Quoting from Harry Truman's favourite motivational verse, he said, "You can accomplish anything in life, provided that you do not mind who gets the credit."
Josephine Okutu, national president of CIMG said the seminar was part of the institute's vision to promote high professional standards in marketing and to educate the general public on marketing and other business related concepts.
"One can only expect excellence when the people involved are adequately equipped to deliver."
Such gathering, she indicated, was for acquisition of knowledge towards better performance.
The second seminar, which will take place this month, will have Ms Joyce Aryee, Chief Executive of the Ghana Chamber of Mines, who is the current CIMG Marketing Woman of the Year delivering a lecture. By Emelia Ennin Abbey