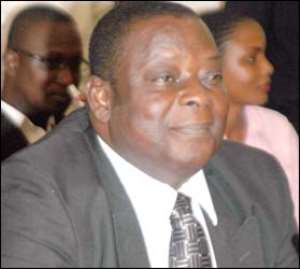 Mark Wayongo The Upper East Regional Minister, Mark Woyongo has stated that disturbance and conflict in any part of the region will hinder his vision of ensuring development, hence the need for lasting peace in Bawku.
The Minister, in a statement, has appealed to residents to tolerate each other and live in peace, adding that the solution to the conflict depended largely on them.
Woyongo was speaking at Bawku Naba's Palace where he had gone to assess the situation after the recent chaos in the area and introduce himself to the Overlord of the Bawku Traditional Area, Naba Asigri Abugragu Azoka.
He appealed to Azoka to find ways of controlling his subjects and encourage them to uphold virtue at all times in order to restore the lost image of the area.
Azoka for his part said the periodic conflict in the area was a great worry to him, and he prayed that the security agencies on the ground would do their best to be neutral and firm in dealing with the perpetrators of such crimes.
 The Upper East Regional Minister and his entourage also called on the Mamprusi Clan Head in Bawku, Alhaji Mahama Akalifa   to ensure that his people also cultivated tolerance for the sake of peace and development.
"We all need each other to develop or attain success, therefore
fighting people we perceive as our enemies will only amount to self destruction and disgrace."
Prior to Woyongo's visit to Bawku, he had met the Heads of
Department in the region to spell out his vision and called on them to play their institutional roles to further develop the area.
He cautioned them against lateness and laziness towards work, and promised to be punctual to the office and functions.
Considering the role some civil servants played on various political platforms during the campaign period, the Minister reminded them to be neutral since they were to serve all governments dispassionately.
He cautioned them against the release of classified information to the media, but asked that they should cooperate with the media where there is the need to do so.
"Members of the media are our partners in development and they need to know what is going on to enable them to inform the public.  But in the course of giving out information, some of you talk too much and you could land yourselves in trouble."
From Ebo Bruce-Quansah, Bawku