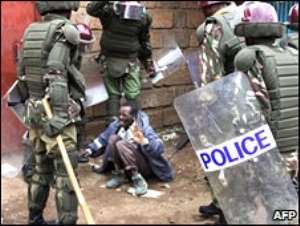 A prominent human rights activist has been shot dead as he drove his car in the Kenyan capital, Nairobi.
Oscar Kamau Kingara - an outspoken critic of the government's alleged practice of extra-judicial killings - was murdered along with a colleague.
There are reports of student clashes with police near where he was killed.
A UN report last week called for Kenya's top policeman and the attorney general to resign for failing to address police impunity.
Mr Kingara was shot dead near State House, the official residence of the Kenyan president.
Two cars blocked Mr Kingara's car and then "two men emerged from the two cars and sprayed the vehicle with bullets", eyewitness Jackson Oyelo told AFP news agency.
University students clashed with riot police, with students refusing to release the blood-spattered car and the two bodies to police, according to a report on the Associated Press.
'Abuses'
Mr Kingara's Oscar Foundation Free Legal Aid Clinic published a report last year, which said that 8,040 young Kenyans have been executed or tortured to death since 2002 in a police crackdown on a gang known as the Mungiki.
Earlier on Thursday, a government spokesman had accused the Oscar Foundation of raising money for the Mungiki.
Also on Thursday, members of the gang had led protests against police violence in the capital Nairobi and other towns.
Last week, the UN published a report which said that police abuses in Kenya were both systematic and widespread.
The author, Philip Alston, described the Kenyan police as a law unto themselves and said they often killed with impunity.
Mr Alston said police commissioner Major General Hussein Ali should be sacked and urged Attorney General Amos Wako to stand down.