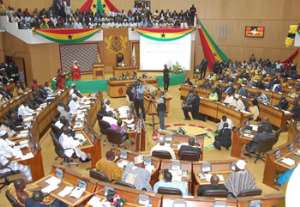 1.6 million School children in deprived public schools across the country will benefit from free "standard" uniforms.
This was disclosed by the Minister of Finance and Economic Planning Dr. Kwabena Duffuor at his first budget presentation to parliament on Thursday.
The policy which will take effect this year, is one of three interventions at the basic school level and are all in fulfillment of the numerous campaign promises of the NDC.
The minister further disclosed a 50% increase in the Capitation Grant to facilitate increase in school enrollment.
According to him, the government will now pay GH¢ 4.50, an increase from the GH¢ 3 per person per year paid under the Kufuor led administration.
The government then in opposition criticized the policy, saying the amount was insignificant to solve the dire economic challenges facing the parents at the time. Others insisted the policy was discriminatory since it did not take into consideration the private institutions.
It is however unclear if the government will extend the policy to private institutions once it has won government.
The minister also indicated exercise books will be provided for all public schools free of charge.
Having lamented the conditions of service for teachers while in opposition, the minister said allowances for teachers some of which have been in arrears would be paid without delay.
He however added preference will be given to those who take posting in the rural and deprived communities.
Story by Nathan Gadugah