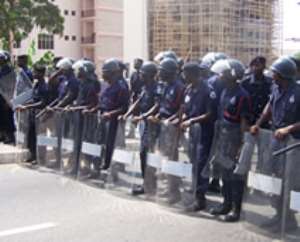 The police in Kumasi have arrested Linford Owuo, leader of a gang, for leading his group to burn a car and assaulting a resident.
Owuo, popularly tailed "CD", allegedly led his group to burn the Daewoo Saloon care of Appiah Stadium, described as a serial caller, and later attacked Mr Ekow Sackey, Assemblyman for the Asem Electoral Area on separate occasions.
The suspect was arrested yesterday and Police Inspector Mohammed Yusif Tanko of the Ashanti Regional Police Public Affairs Unit; told the Times that he was being processed for court.
Linford Owuo was further alleged to have announced on a private radio station in Kumasi the names of some residents on the group's hit list.
The names included George Ayisi Boateng, Manager of the Goil Filling Station at Asato in Kumasi.
These incidents have created fear among some residents and in response to this, the Ashanti Regional Security Council (REGSEC) has instructed the police to conduct investigations into the matter.
In a statement signed by the Minister, Kofi Opoku Manu, the REGSEC advised the police to view the development as criminal and to deal with them as such to ensure justice.