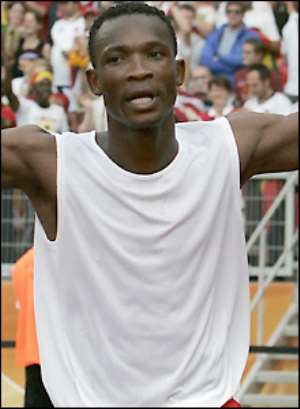 PAINTSIL HAS BEEN REGULAR THIS TERM English Premier League side Fulham are investigating whether their Ghana international John Paintsil was racially abused following the final whistle after Wednesday night's 1-0 defeat to Hull City.
 
There are reports that the right-back suffered some form of verbal abuse but it is yet to substantiated that it was racial in nature.
 
If established, the perpetrators will face the wrath of the Football Association which vehemently frowns on such acts.
 
Fulham boss Roy Hodgson told Sky Sports, "The official said to me that John complained to him about being abused by somebody.
"The referee [Mike Jones] didn't hear anything so he couldn't take any action.
"It's unusual to see John quite that angry so something has obviously happened out there, but what it is I don't know.
"I'll investigate it with John. I wouldn't have thought he was abused by fans - if players got angry about that they'd be angry every time a game is played.
"I'll speak to John and hopefully he'll have calmed down. We shouldn't be making such a drama about it.
"But if John feels we as a football club need to do something about it then we'll explore it."
 
Three weeks ago John Mensah suffered a similar act when he was abused by a Le Hevre fan in the French Ligue 1.
For more Ghana football news visit www.ghanasoccernet.com