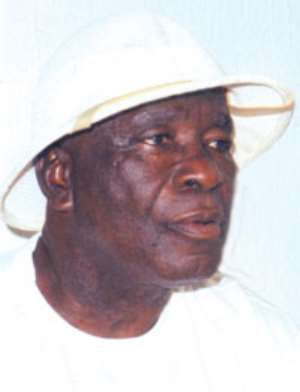 EX-KMA BOSS, Nana Akwasi Agyemang has lauded President John Atta Mills' approach to systematically taking control of the administration of the country and said given the chance, the President would ensure an effective administration. According to Nana Akwasi Agyeman, the President has so far proven that he is capable of leading the country. "He is, by all indications in control," he said.
Commenting on the hullabaloo surrounding the appointment of CEO for Kumasi Metropolis, Nana Akwasi Agyeman, also known as 'Okumkom', who has served in similar capacity as Mayor for 23 years, under various governments of the NRC, SMC I and II, PNP and (P) NDC regimes, advised the President to appoint a more practical and selfless person for the job. He said the success of any government depends on who can effectively handle the Kumasi Metropolitan Authority (KMA) to complement the efforts of the Asantehene to develop Kumasi.
An emerging group of agitators including traders, chiefs and artisans of the Suame Magazine, as well as the Zongo communities have made their ultimate preference, in the person of Nana Akwasi Agyeman, and believe that his nomination would end the furore about who heads the KMA.
Okumkom said he was aware of agitation by sections of residents in the Metropolis for him to consider taking up the challenge to head KMA once again, if he is offered the opportunity.
Nana Akwasi Agyeman said though all the aspirants are nice gentlemen who deserve the job, the President should appoint someone who is ready to serve, and to compliment the efforts of the Asantehene to ensure the general development of Kumasi.
Some assembly members that The Chronicle solicited their opinion about the possibility of Nana Agyeman being nominated for the KMA Chief Executive position, simply said he (Nana) is better and politically matured than all the aspirants.
They believe that Kumasi can best be managed if the traditional set up is linked up with the political machinery to effectively administer it. They hold the view that appointing somebody who is a royal and has direct links with the Golden stool would promote the proper development of the city.