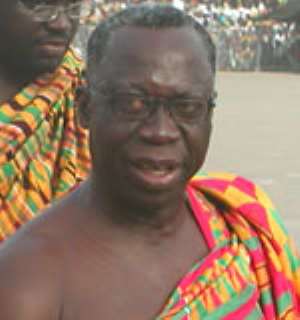 Former Finance and Economic Planning Minister under the Kufuor administration, Yaw Osafo Maafo has described as "courageous and feasible" attempts by the new government to reduce budget deficits.
The deficit as announced by the Minister of Finance and Economic Planning Dr. Kwabena Duffuor in his first budget presentation to parliament stood at 14.9 per cent, while the government targets a reduction to 9 per cent of GDP for 2009.
Mr. Maafo described the current deficit as stifling and welcomed the new projection, but said measures to attain the projection were not clearly articulated.
"There has to be specific measures to improve revenue and to reduce expenditure but those were not well articulated to achieve that level of reduction," he told Joy News just after the budget presentation.
Mr. Maafo also challenged proposed reduction in petroleum taxes announced by the Minister of Finance and Economic Planning.
The reduction is in keeping with the manifesto promise of the NDC and the Minister hoped it will assuage the suffering of Ghanaians.
But Mr. Maafo maintained the reduction will only haunt the government which has made revenue generation a top priority in cutting the budget deficit.
Taxes from petroleum, he noted, forms a large part of the country's revenue and expressed concern the reduction will thwart efforts at improving the revenue base.
"With 14.9 percent budget deficit, that reduction is unnecessary," he said.
Listen to Mr. Maafo's reaction to the Budget presentation in the attached audio.
Story by Nathan Gadugah