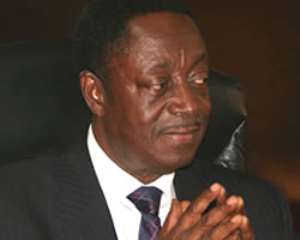 The Finance and Economic Planning Minister, Dr. Kwabena Duffour has warned that the current global economic crisis will greatly hamper Ghana's resolve to grow her economy.
"The crisis has caused a sharp decline in the prospects of the country attaining its economic goals."
Presenting the 2009 Budget in Parliament, Dr. Duffour said the demand for the country's exports will decline significantly resulting in lower export earnings.
Remittances, which account for a significant portion of Ghana's GDP over the years are also expected to fall drastically.
This he said, will be because Ghanaians in the diaspora are themselves reeling under the credit crunch in the Western countries.
As a result of the fiscal challenges faced by the West, donor support is expected to fall.
Given these, the minister said, the need for constructing Ghanaian solutions to its economic problems cannot be over-emphasised.
The grim economic outlook, he said, places an enormous responsibility on all Ghanaians to make sacrifices and support the government to design and implement economic policies that work.
The NDC government, according to him, was committed to managing the country's resources in a manner that will create prosperity for all.
The budget, he said, will explore policies that will ensure access to education and affordable healthcare.
The former governor of the Bank of Ghana stressed the need to shift from the way the previous government managed the economy which led to a fiscal deficit of 14.9 per cent.
Story by Malik Abass Daabu