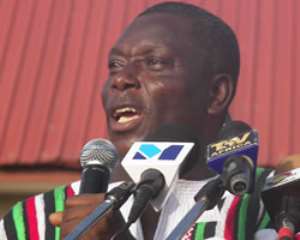 The assembly hall of the Accra Metropolitan Assembly (AMA) was thrown into confusion Wednesday following the postponement of the election of a Presiding Member (PM).
The Co-ordinating Director, Mr I.T. Adjovu, who made the announcement to the effect that the election had been postponed, received verbal attacks from assembly members who cast all manner of invectives at him.
Mr Adjovu, who remained calm throughout the confusion, told the assembly members that the decision to suspend the election came from the Ministry of Local Government, Rural Development and Environment, adding that due consultations would be held to enable the members of the assembly to elect their PM as soon as possible.
This announcement failed to calm the members and rather aggravated the situation.
For several hours the issue dragged on, and the assembly members finally staged a walkout to signify their displeasure over the postponement of the election.
Mr Adjovu, who acted as the Presiding Officer for the Special Meeting, maintained that once the AMA was under the Ministry of Local Government, Rural Development and Environment the assembly had to obey its directives.
The assembly members on the other hand, insisted that the election should be held, with most of them making reference to a standing order which mandated the assembly to elect its PM at its inaugural meeting.
According to the assembly members, the election of a PM had already delayed and consequently affected the work of the assembly, hence their disagreement with the suspension.
The Greater Accra Regional Minister, Nii Armah Ashietey, who came in later, pleaded with the assembly members to agree to the decision to suspend the election to give way for more consultations.
The Member of Parliament (MP) for Ayawaso, Dr Ahmed Mustapha, who was finally able to restore some order, also pleaded with the assembly members to accept the decision of the ministry.
He advised members to use the period to strengthen the position of the candidate that they had resolved to elect and not to fight the authority.
Thirty government appointees had earlier been sworn in by a High Court Judge, His Lordship Philip Bright Mensah.
The appointees, who took both the oath of office and secrecy, were advised to work hard to contribute their quota to the development of the Accra metropolis.
Mr Adjovu enumerated poor sanitation conditions, inadequate revenue generation and other development challenges as some of the problems that confronted the assembly, and appealed to the new entrants to work relentlessly to help resolve some of them.
Other MPs at the ceremony included the MPs for Odododiodio and Ablekuma South, Mr Jonathan Tackie Kommey and Mr Fritz Baffour respectively.