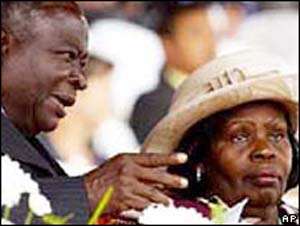 President Mwai Kibaki and wife Kenya's President Mwai Kibaki has held a rare press conference to deny rumours that he has a second wife.
Mr Kibaki said he was in a "foul mood" and warned that anyone repeating the rumours would see him "in court".
His wife, Lucy, accused the media of "tormenting" her, and said she had she considered attacking one TV station.
The BBC's Anne Mawathe in Nairobi says the president's office has denied the rumours several times in the past but they have refused to die.
Observers had said it was common knowledge that another woman was given protection on the level of the first family after Mr Kibaki took office in 2002.
But, flanked by his wife and senior government officials, Mr Kibaki told the news conference: "I want to make it very clear that I have only one dear wife, Lucy, who's here, and I do not have any other.
"Anybody who knows me and knows my family and knows how I live - they know I have only one wife."
He said he had "gotten into this foul mood" after hearing about the rumours again in recent days, and that he would take to court anyone "bent on that course" of repeating them.
Strained politics
A visibly angry Mrs Kibaki then told the news conference: "You keep tormenting us, I don't know what you get out of it."
BBC