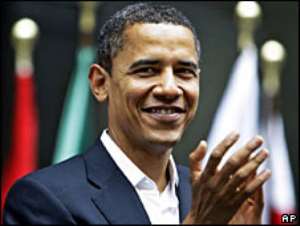 President Obama has announced that US sanctions against Zimbabwe will continue for another year.
The extension of sanctions was aimed at President Robert Mugabe and members of his government, he said.
The political crisis in Zimbabwe remained unresolved and was a "threat" to US policy, said Mr Obama.
Earlier, the new prime minister of Zimbabwe, Morgan Tsvangirai, in his maiden speech to parliament, appealed to Western countries to lift sanctions.
They should recognise the progress that had been made with the formation of a power-sharing administration, he said.
'Threat'
In a statement to Congress, President Obama said some members of the government of Zimbabwe continued to undermine democratic processes and institutions.
"These actions and policies pose a continuing unusual and extraordinary threat to the foreign policy of the United States," he added.
The European Union has also decided to maintain sanctions against Zimbabwe until the full terms of the power-sharing deal between President Mugabe and Morgan Tsvangirai are implemented.
Zimbabwe is facing chronic food shortages, economic stagnation and an outbreak of cholera that has killed nearly 4,000 people.