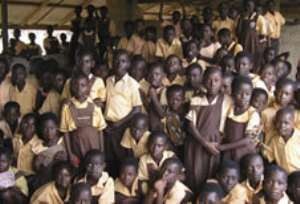 The Government has increased the Capitation Grant from GH¢3 to GH¢4.5 per pupil per year under the fee-free policy for public basic schools nationwide for the 2008/2009 academic year which began in September last year.
To this end, GH¢22.5 million has been earmarked as Capitation Grant for this current year, to cover payment of pupils' fees. A source at the Ministry of Education, who made this known to the Times in Accra, declined to give details but said, "it is included in this year's budget and we are working towards it".
The Times learned that GH¢ 16.5 million was voted for the 2007/2008 academic year.
The Capitation Grant was introduced and initially piloted in 40 districts with World Bank funding during the 2005/2006 academic year.
However, at the beginning of the 2006/2007 academic year, it was extended to all basic schools countrywide with funding from the government.