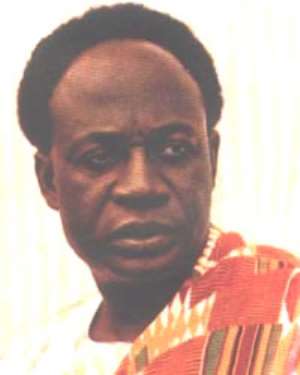 Felicitations Osagyefo,
The last time I wrote to you, your daughter, Samia, had become a Member of Parliament. Now, she is in the news again praising Ghana's new president, Asomdwoe Hene Atta Mills for proposing a Founder's Day to honour you. This national holiday would commemorate your 100th birthday, September 21, 2009 and would be a yearly affair just like Martin Luther King Day in the USA. I don't know why this bit is not surprising, but the folks in the New Patriotic Party (NPP) have opposed this proposal and getting this legislation to pass is going to be a battle in parliament. This opposition is being branded as a feature of the 'Mate me ho' folk, which dates back as far as you emerged on the scene as Ghana's leader. The National Democratic Congress' majority will probably chalk another democratic victory so felicitations again, Osagyefo, it seems you are about to chalk another feat.
Do Ghanaians need an extra holiday? We seem to have a lot, thanks to the many religious holidays. We have one for the workers, and one for the farmers. Does the African Union holiday still stand? What comes to mind when you think of holidays? No, not the chance to throw a party or social event, but the opportunity to give the nation's brick builders a break. That's why these holidays make a whole lot of sense. We also have the penchant for declaring holidays for major national achievements, especially when the Black Stars do the nation 'mega-proud'. Are we going to get a Black Star Day when they win the World Cup? After Kenya declared a holiday for Obama's presidency, nothing is impossible. Maybe if the tides were turned, we may have declared one for Kofi Annan after he was appointed UN Secretary-General.
One issue that is arising with this Founder's Day proposal is whether we haven't already honoured you enough. Osagyefo, you have a whole roundabout in your honour. Well, J.B. Danquah and Tetteh Quarshie have some too but yours seems to be the busiest and close to a tourist attraction. Our nation's flagship technical institution is named after you. You've been named Millennium man of the Century, you have a whole mausoleum, and your daughter was voted as a first-time MP when she'd been resident in the country for about 2 years. Isn't this all overwhelming? I know you didn't ask for it, but this is borderline greed. What about K.A. Gbedemah, Ebenezer Ako Adjei and Kojo Botsio? What and where are their honours?

Gabby Okyere-Darko, our friend at the Danquah Institute, seems to be one person in the Danquah-Busia tradition who entertains the Founder's Day idea. Except he wants the date to be changed to August 4. Kwame, what comes to mind when you think of August 4? Wake Nana Akufo-Addo up and ask him if he knows what significance August 4 holds in Ghana's history. August 4 stands for August 4, 1947, the day Ghana's Independence struggle 'really began' according to the Statesman newspaper man. Turns out this date was the inauguration date of the United Gold Coast Convention (UGCC). Apparently, this day would honour all, including the CPP founder. Hence, it will be a Founders day (note spelling). Chei! The NPP folks want to steal your spotlight. The NPP people do not want to be left out of anything, it's like a day to honour you is an insult to them. Why will it be? They brought you to the then Gold Coast anyway.
I understand the significance of having a Founder's Day or Founders Day to honour the forefather (or forefathers) of our nation. It's different from Independence day. Look at the difference between MLK Day and America's own independence day. Last time I checked, Abraham Lincoln didn't have his own day, neither did George Washington or even Malcolm X. However, there's President' Day. As much as I admire you Kwame, I think it's unfair to honour you alone. That begs the question, if we do call honour 'everyone', what should this day be called and what day should it be on? President's day? We all know we've not had the best presidents, so throw that out the window. Who are our nation's founders? The Big Six? The three faces engraved in our memory from 6th March 1957? I think we should have what we call a Patriot's Day, because if there's anything missing from our calendar, that is the one. Have a day that honour people from all walks of life (not just our politicians) who have contributed to make Ghana a better place, and made us proud to be Ghanaians. Use the day to honour Ghanaians, not Kufuor's 50 Cent bling bling gold medallion style though. This will take care of all the impromptu, impulsive, whimsical holidays that will be declared hereafter. The name even bears resemblance to the NPP's name. Isn't this the most brilliant idea ever? I know you agree, Osagyefo.
Now that we have settled on the name, we need to decide a date. This is the hardest one. I am tempted to agree with Mills and go with the original Founder's Day idea because it's a clear cut September 21. What is the most patriotic day of all in our nation's history? How about January 8? On that date in 1950, you and your crew declared Positive Action. Ah, Kwame, why is everything about you? This 'Positive action' has to be the most 'patriotic' thing Ghanaians have done ever, in tandem. That day kick-started our independence drive and involved not just politicians, but the average person as well. Think about those words; positive action. Every four years, this day would also cut close to inauguration of our nation's leader, an added bonus. So when we inaugurate new governments and statesmen, we'll be doing it in the spirit of unity, patriotism and purpose.
Besides, September 21 is just your birthday. In some circles, it is believed it's not your actual birthday. September 21, 1909 is a Tuesday (for Kwabena), you were christened Kofi and you are called Kwame. Confusion ayε basaa. I am sure Mills thought this proposal through before making it but the debate is just getting started and it's about to get confusing. People found and start things all the time but nothing speaks more than being patriotic, being true to a cause and acting upon a mission. Maybe we could get a better day than January 8. Speaking of holidays, Happy Independence Day in advance. This year's March 6th is bound to be celebrated with the national parade, and countless independence bashes just like all birthdays are celebrated. You know how the birthday boy/girl is exempted from the expensive birthday dinner? Who's going to pick up the tab for this one? Ghana will and always does. Though it's our birthday, we'll probably lose more money than we gain. This Founder's/Founders/Patriot's Day holiday can be different.
Till next time.
From Maximus Ojah [[email protected]]