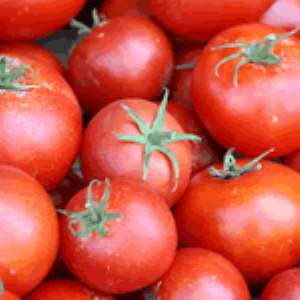 Traders from the Southern part of the country, popularly called Market Queens, have been urged to buy tomatoes from farmers in the Upper East Region instead of purchasing the vegetable from neighbouring Burkina Faso.
Mr. Mark Woyongo, Regional Minister, made the appeal on Wednesday in Navrongo, when he met with the traders and farmers to determine among others the acceptable price for the vegetable.
He said the Regional Coordinating Council would persuade schools and other institutions in the country to patronise tomatoes produced by the farmers.
Mr. Woyongo said management of the Pwalugu Tomato Factory had suspended the purchase of tomatoes from the farmers because it was expecting advice from an Italian expert before it could do so.
The Regional Minister said plans were underway to find market for the produce and gave the assurance that he would negotiate with the Ministry of Trade and Industry to ensure appreciable price for the vegetable.
Mr. Woyongo said farmers and Municipal and District Assemblies in the region would be encouraged to own shares in the factory.
He expressed worry that because of the lack of market the vegetable was rotten on some farms in the region.
Mr. Woyongo assured the farmers that government would woo investors to establish more tomato factories in the region as a way of expanding market for the vegetable.
He asked personnel of Customs Excise and Preventive Service (CEPS), to thoroughly search vehicles plying Ghana and Burkina Faso to convey tomatoes, to check smuggling.
The traders pledged to buy a crate of tomatoes at 20 Ghana cedis instead of the initial price of 15 Ghana cedis.
Mr. Atingse Daniel, tomatoes farmer in the region, complained to GNA that he obtained a loan of 2000 Ghana cedis for the bank to cultivation the vegetable but he realised 100 Ghana cedis.
Other farmers made similar complain and called on government to help find a lasting solution to the problem.
They suggested that Ghana should close its border with Burkina Faso during tomato harvest season to prevent the traders from purchasing the vegetable from Burkina Faso.
GNA