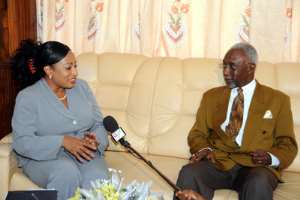 Information Minister, Mrs. Zita Okaikoi, interacting with H. E. Bella Mandaw Dia, Senegalese Ambassador
The Information Minister, Mrs Zita Okaikoi, today, commended Senegal for her  consistent efforts  to establish an Embassy in Ghana over the years, adding that it is the desire of Ghana, too, to re-enforce good relations with other countries throughout the world.
Mrs Okaikoi was speaking when the Senegalese Ambassador to Ghana H. E. Bella Mandaw Dia paid a  courtesy call on her in Accra.
The Ambassador observed that both countries have something in common. As a result, there is the need to strengthen their bilateral relationship.
He informed the Minister  that there will be a Cultural Festival in December this year, as such, he is looking forward to seeing Ghanaian delegation  in Senegal.
He further extended his government's congrations to the President and the entire Ghanaian public for going through a successful election.
'Our government will need the support of Ghana to achieve the goals of the African Union Government since that has been the dream of Ghana's first President, Kwame Nkrumah,'he added.
Mrs Zita Okaikoi reiterated Ghana's stand on the African Union Government but expressed her dissatisfaction with the current incident in Guinea Bissau and perceived it as an affront to democracy.
The Minister also expressed the desire of her ministry to work with the media, adding that, an agenda has been set to meet editors of the various media houses to discuss the ways and means of strengthening Ghana's democracy.
Click here to view photos