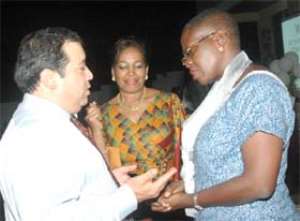 Akua Dansua (R) in a discussion with Dr. Tuakli
AKUA Sena Dansua, Minister for Women and Children's Affairs, has assured  government commitment and support to the fight against gender-based violence in the country.
She said government's commitment to eradicate domestic violence was based on the passage of the Domestic Violence Act into law, making it necessary to re-launch the plan of action.
Ms Dansua, who was addressing gender-based organizations on Thursday at the 10th anniversary of Women's Initiative for Self-Empowerment (WISE), also launched a series of programs and activities to mark the celebrations in Accra.
The Minister admonished people at the gender violence front to see WISE's activities as complementing their work and association with the victims' experiences, fear and trauma.
The Minister of Women and Children's Affairs therefore noted the need for government to provide adequate facilities for the benefit of the victims, as well as to train more professional personnel in the areas of counseling, welfare and support.
WISE, including Network for Women's Rights in Ghana (NETRIGHT), the International Federation of Women Lawyers (FIDA) and Ark-Foundation among others, being the main women's rights organizations and networks in Ghana, played a frontline role for awareness on violence against women and children, and the passage into law; the Domestic Violence Act 2007-Act (732) by the House of Parliament.
Dr. Juliette Tuakli, Chairperson of WISE's Board of Directors, stressed that ten years ago, domestic violence was never talked about or brought up for family discussion. She therefore thanked all partners and volunteers of WISE and various networks that assisted them to create the public awareness achieved so far.
Dr. Tuakli also noted there were greater challenges ahead to bring to light the problem of child trafficking.
"WISE therefore is appealing to stakeholders and the public to provide financial assistance and moral support for the welfare and support for the domestic violence victims' empowerment across the country."
WISE has provided psychosocial support services that have impacted positively the lives of over 13,500 survivors or victims of domestic violence over the past 10 years. In addition, WISE   raised awareness about the existence of support and services for these victims and therefore reached out to 15,000 people through advocacy and public education.
WISE has through its work across the country made domestic violence especially sexual and gender-based violence a topical issue in Ghana.
By Jos Garneo Cephas