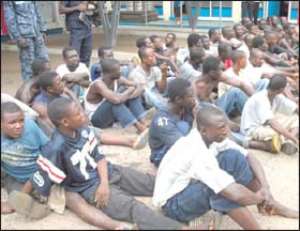 Some of the suspected criminals NINETY SUSPECTED criminals and drug peddlers were arrested over the weekend by personnel of the Tema Regional Police Command in an operation dubbed 'Search and Destroy'.
Briefing DAILY GUIDE on the operation, Deputy Commissioner of Police (DCOP) John Kudalor remarked that the swoop was part of activities by his outfit to ensure that residents of Tema and its environs lived in peace.
He said all 90 persons were arrested during the operation which involved about 100 policemen and women.
"We had earlier gone round the area to identify the hideouts of these criminals and then decided to swoop on them early in the morning since that is the time most of them return from their operations," DCOP Kudalor noted.
He said the only woman amongst the arrested criminals was picked up because she was suspected to be selling hard liquor made from Indian hemp popularly known as 'wee bitters' to the suspected criminals.
Dried leaves believed to be Indian hemp were also found in her shop located at Tema New Town.
The Regional Commander mentioned that the operation saw the police raiding areas like Community 1 Site 2, BBC in Community 2, Tema New Town and some areas within the Ashaiman municipality.
He disclosed that two armed robbers were arrested two days before the swoop, and added that they would be arraigned after investigations.
He cautioned residents of the area especially those who transact businesses in banks to be careful when leaving the bank premises, as most of these criminals loiter around banks and trail customers to know their homes so as to attack them later.
He also mentioned that leaves suspected to be Indian hemp were found on most of the suspected criminals. Motorbikes which the police believed were used by the suspects in their criminal activities were also seized.
He assured residents of the police's continuous protection, and urged members of the public to always volunteer information to the police on criminals in their midst.
He refuted rumours that police always mentioned identity of informants to criminals after their arrest.
From Razak Mardorgyz Abubakar, Tema