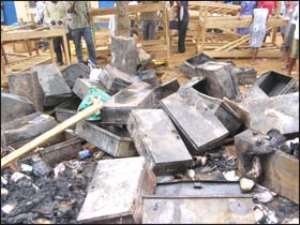 Some of the burnt trunks in the dormitory STUDENTS OF Begoro Presbyterian Senior High (Begoro Presec) in the Eastern region who are on mid-term holidays have been asked to report to school on Tuesday, March 10 instead of March 3, as a result of an extensive destruction caused to the girls' dormitory by a fire outbreak at the dormitory on Sunday, March 1.
The headmaster of the school, Mr. Ebenezer Charway, said the school authorities took the decision to allow them to make contingency arrangements to accommodate students who had been affected by the accident.
Two apartments of the girls' dormitory and their contents were completely burnt while two others were partly affected by the fire, whose cause was attributed to an electrical fault.
The headmaster told a team of pressmen which visited the school on Monday in the company of the Eastern regional minister that the fire started around 7.30pm on Sunday moments after electricity was restored, following intermittent power outages in the town.
He said the few final year students who were then in the dormitory raised an alarm but the raging fire could not be put off.
According to him, since the Begoro Fire Service did not have a fire tender, they had to send a distress call to the Koforidua Fire Service, before a fire tender was dispatched from Koforidua to fight the fire.
According to DAILY GUIDE sources, it took the intervention of a brave student girl to brace through the fire and put off the main switch which helped to subside fire.
Property running into several thousands of Ghana cedis including trunks, chop boxes, wooden beds, books and mattresses got completely burnt.
The Minister, Hon Ofosu Ampofo, promised to contact the National Disaster Management Organisation (NADMO) for an immediate assistance.
He as well appealed to the Ministry of Interior to as a matter of urgency provide the Begoro Fire Service with a fire tender as a result of its remoteness from Koforidua, adding that out of the 21 districts in the region only nine have fire tenders; a situation which he described as very disturbing.
The Member of Parliament for the area, Hon Kwabena Amankwah Asiamah, who later came to the scene pledged GH¢2,000 to the affected students.
He asked the school authorities to properly counsel the affected students most of whom are final year students who will be writing their final WASSEC exams next month since they would be going through some psychological trauma.
The MP, who is an old student of the school, appealed to other old students and philanthropic individuals to come to the aid of the affected students.
From Thomas Fosu Jnr, Begoro