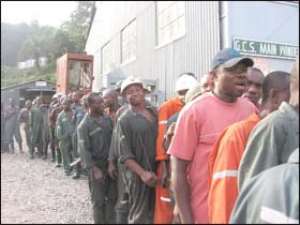 Some AGA workers in a queue to test for HIV ABOUT 800 AngloGold Ashanti (AGA) workers at the GCS Shaft in Obuasi have availed themselves of a Voluntary Counseling and Testing (VCT) for HIV.
It was a part of the company's ongoing "Know Your Status" campaign project under its workplace HIV/AIDS policy.
The project is to allow the employees of the giant gold-mining company to get tested to determine their status of infection in order for the company to plan arresting the challenges ahead.
By the end of September, AGA hopes to have finished screening all its workers and decided the kind of measure to take for the  prevention and reduction of the monstrous opportunistic disease AIDS, aside an establishment of comprehensive medical care package for the affected workers.
 Dr. Kwabena Barnie, Chairman of a Joint Action Committee (JAC) for the company's workplace HIV/AIDS programme, said the testing formed part of proactive moves to tackle the disease 'headlong' because a business company is not safe if 70 percent of the workforce is infected with HIV.
He assured workers of no job losses and indiscriminate actions, even in the event that a worker is found to be carrying the HIV virus, which sometimes develops to become AIDS if proper medication and treatment are not given.
According to Dr. Barnie, medical records of workers who are diagnosed positive of HIV would be kept confidential.
He stated that the company would provide food supplements and other monetary entitlements to the HIV worker to keep him strong all the time, in addition to full salary and bonuses.
Apart from these, an HIV/AIDS worker, who cannot work for the company, will enjoy comprehensive medical insurance, free drugs from the National AIDS Control Programme, full salary as well as bonuses, H.E. Aburgri, Human Resource Manager of AGA disclosed.
According to him, tests for HIV would not be part of the company's employment requirement and that HIV/AIDS workers would neither be stigmatized nor stereotyped as is the case in other companies.
A virtual stampede of workers was created moments after this assurance, as workers jostled each other to form two separate queues in an apparent response to the call, just for the sake of determining their status.
Each worker was given a T-shirt with the inscription: "Know Your HIV Status – get tested" in an attempt to encourage them and send the message across to the rest of the people in Obuasi.
From Ernest Kofi Adu, Obuasi